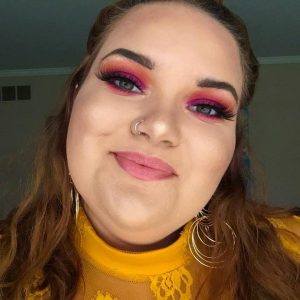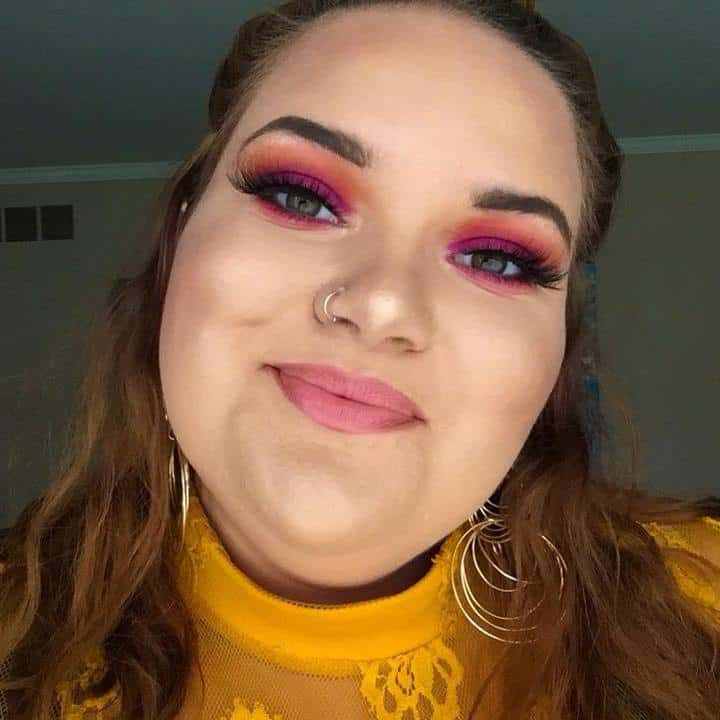 Latest posts by Alizabeth Swain
(see all)
There are two types of foods that I have trust issues with; milk and pork.
I don't trust milk because I always suspect it is spoiled, even if I've just bought it from the grocery store. I have this weird sniff test process that I go through before I even venture to pour myself a glass of milk. Can you blame me, though? If you've taken a sip of spoiled milk, you'll know why I have trust issues.
The other food is pork. I don't trust pork because I've seen too many videos online of butchers trying to hide cancer growth, parasites, and other nasty things inside of the pork they're selling. I avoided buying grocery store pork whenever I possibly could. Unfortunately, that made my life difficult.
I have some things that I depend on the grocery store for, but I have to go out of my way to order pork products from places that I love. However, since my schedule is so busy, I only had time to shop at a few different places.
I'll admit, I missed my bacon. My husband misses pork chops. My son follows in his mama's footsteps and loves bacon as I do. After hearing my family complain about how they miss pork and are tired of eating chicken every night, I decided to seek out the best pork delivery services.
I have spent years trying a bunch of different pork delivery services in a personal attempt to see who I could crown as the real winner.
What meat delivery service could I trust to feed my family every night? Dinner time is the only time I get to spend with everybody in my family, so I need to make sure I have a high-quality, healthy, and delicious meal to feed everybody.
The bottom oink for you: Good Chop is my number one pick for pork delivery services. I love the variety of meats they offer, but the quality of their pork is unmatched. Good Chop has helped me calm down about my pork trust issues!
How I Chose These Pork Delivery Services
I have been in the subscription box and delivery service game for over a decade. I've seen the good, the bad, and the horrible subscription boxes.
It's crazy to me to think about how I've been here long enough to see the start and end of many popular subscription boxes.
With all of that said, there was a lengthy criterion these delivery services had to go through to make it on this list. Not every pork delivery service on the market will make this list.
Quality of Pork
I want to emphasize that I only put subscription boxes here with quality pork pieces. When I opened up each of these boxes, I was expecting a bad experience just because of how iffy I am regarding pork. All of the pork delivery services in this guide have high-quality fresh pork. I'll also consider where the company sourced its pork.
Not only that, but I also spent hours searching through customer reviews before signing up for any delivery service. If customers talked about the company providing low-quality meat, I didn't even sign up for them myself.
Pork Product Range
I wasn't expecting this to be that big of an issue when searching through delivery services for myself. Still, surprisingly, many companies didn't offer a wide pork variety. I ensured that all the companies I listed had a good variety of pork products. Unfortunately, there are some pork delivery services out there that only offer pork chops and bacon. However, the companies I have listed here offer more than that.
Pork Sustainability
As many videos as I've seen about all of the "hidden" stuff in pork, I've also seen many farms and pork processing facilities mistreat pigs. I want the pork I'm eating to have come from a pig that lived a happy and healthy life. I've only included companies that have a proven track record of having happy and healthy piggies.
Experience
All of the companies I have listed in this article are all companies I've personally ordered from. I've taken into consideration the ordering process, the price, the shipping process, and my overall happiness when trying each of these brands. If there was a company that I didn't have a great experience with because of shipping time or their customer service was lacking, I didn't include them in this list.
My Favorite Pork Delivery Services
Without any further hesitation, here are my all-time favorite pork delivery services!
Good Chop offers sustainably-raised and high-quality pork. I love Good Chop because they Source all of their meats from small family farms across the entire United States. I also really like how easily customizable Good Chop subscription boxes are. You can choose from various options, including monthly and bi-monthly packages. Good Chop doesn't just offer pork, so I will take a moment to mention how outstanding their chicken and beef products are.
I am always Blown Away by the quality of meats offered by Good Chop. Their pork products come from pasteurized pigs that haven't been fed any antibiotics, GMO feed, or hormones. Something that I thought was cool about Good Chop, too, is all of their meats are cut by hand. I feel like this adds to the small business vibe of Good Chop, which is one of the reasons why I'm so passionate about this company.
Plus, every single piece of meat is packaged fresh to order. I think this would explain why all of the orders I've ever received from Good Chop are always in excellent condition.
Besides supporting small businesses across the United States and the high-quality pork products Good Chop sends out, I appreciate how much they prioritize sustainability in animal welfare. All the farms that Good Chop works with only use farms that practice sustainability and humane treatment.
Another significant aspect of Good Chop is that all their subscriptions are customizable and easy to purchase. If you're not sure what to start with when trying our Good Chop for the first time, I would highly recommend you give their bacon a try. It's one of the more affordable pork options offered by Good Chop, and once you try it for the first time, you'll be convinced! I love how thick-cut the bacon is. There isn't any other subscription box in this list that sends out bacon as thickly cut as the bacon from Good Chop.
Bacon isn't the only pork product from a Good Chop that I love. I love their Italian ground sausage. I use Italian ground sausage so frequently in my dishes. This is something that I always keep stocked up in my freezer because it tastes so good. It's so rich and full of flavor, and there's so much I can do with it.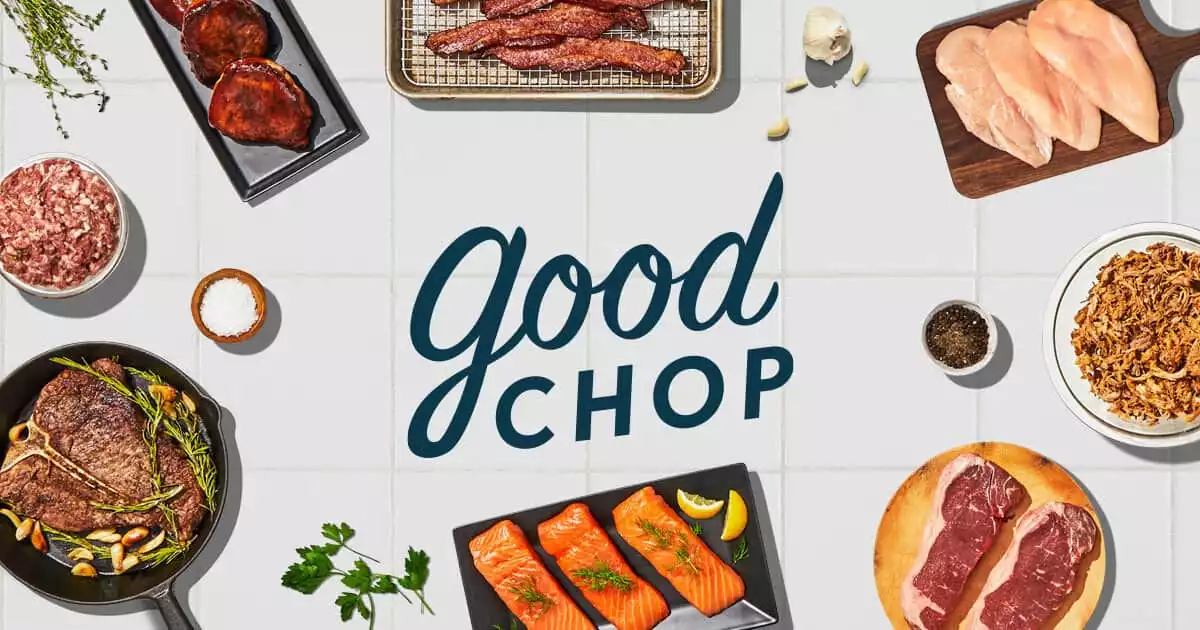 Pros:
I like that all of their pork products come and individual packaging

Good Chop offers hearty sizes for their pork products

I like that Good Chop has a variety of flavors for their pork products, including sweet and savory options
Cons:
Good Chop doesn't offer as much variety as other options on this list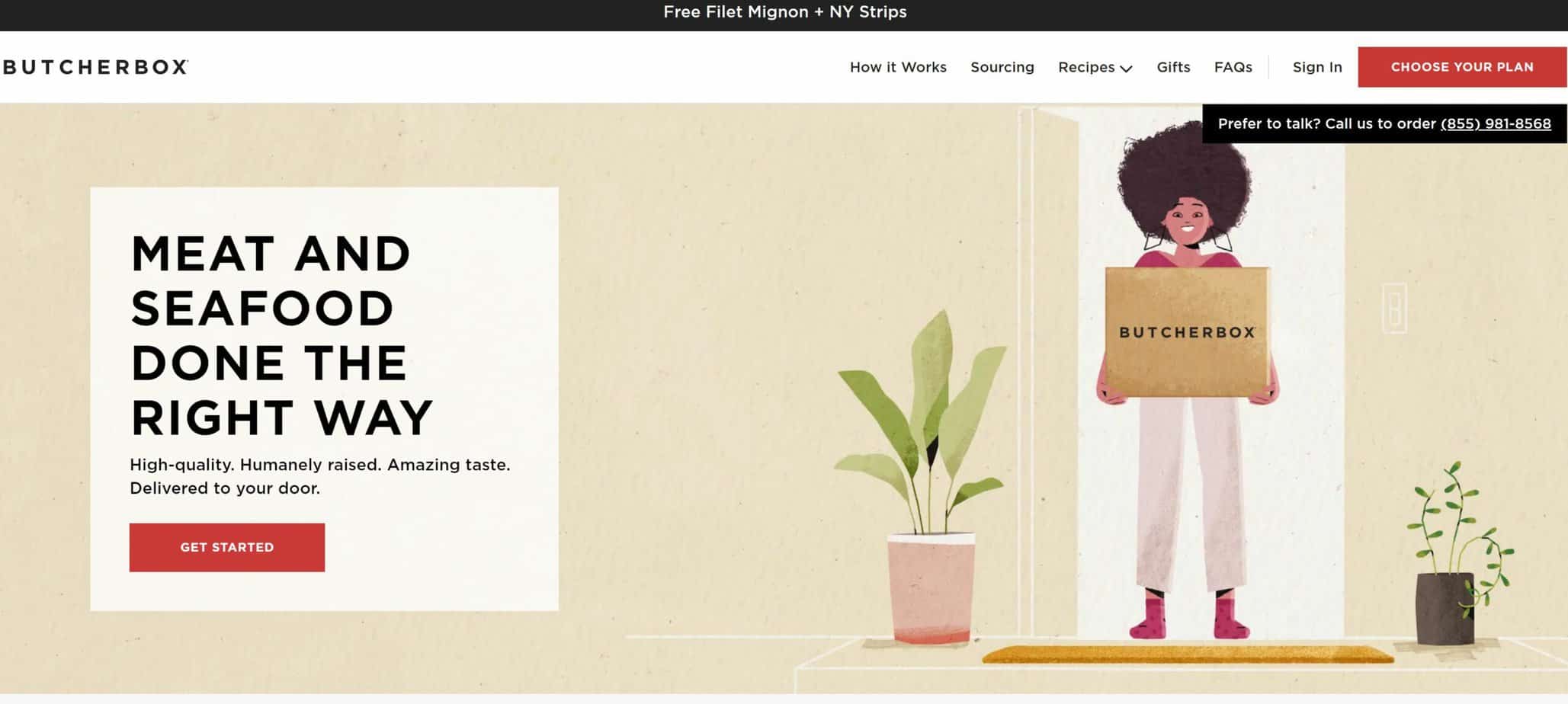 Out of all the options on this list, Butcher Box is likely the meat delivery service you've heard the most about.
This is a trustworthy option if you've never ordered from a meat delivery service before and want to go with a bigger name brand. But your box has a ton of pork options that are all sourced from small family-owned farms.
A lot of people like butcher boxes because their pork is antibiotic and hormone free. I love that they are a big-name brand company but still focus on working with small farms that focus on sustainability and raising pigs in humane conditions.
I think the Butcher Box does a great job of offering a lot of the variety you would see inside a grocery store. There are a lot of staples that I count on Butcher Box to deliver, like ground pork and breakfast sausage. I feel like it's so hard to find breakfast sausage in any meat delivery subscription box, but the ground breakfast sausage I get from Butcher Box is always excellent.
Plus, I think their website is so fantastic. I love its design; I think it's incredible to see which cuts of meat come from which part of the pig.
Pros:
I love the education aspect behind Butcher Box; I think it's so cool they teach people about what cuts of pork come from what parts of the pig

They offer a lot of pork staples that you would find in the grocery store, like ground pork and sausages

Some people like ordering from big-name brands because there's a level of accountability and trustworthiness that comes with butcher box

All of their pork products don't contain any nitrates or added sugar and are paleo-friendly
Cons:
I wish Butcher Box packaged their meats differently because they tend to be pretty bulky and take up a lot of space in my freezer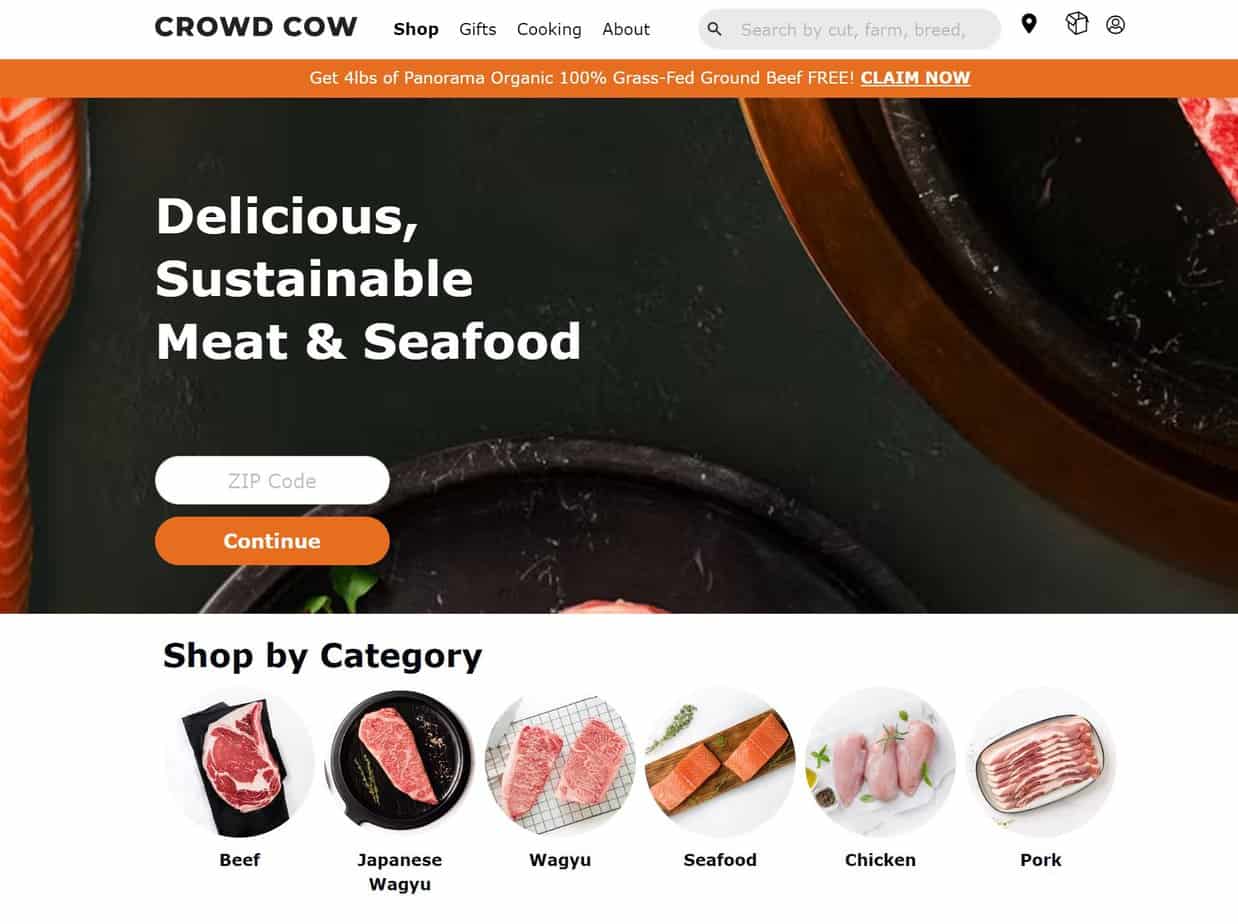 Crowd Cow is another meat delivery service that partners with small, sustainably focused farms across the United States. What sets Crowd Cow apart from other options on this list is that before they accept a farm into their company, they taste test all of the products provided by the farm. This ensures that all of the meat you're receiving in your boxes is quality and delicious!
Another thing that I really love about crowd cow is they offer meat that you don't always see in grocery stores. For example, if you're looking for a box that gives you a mix of pork and other meats, you can find really cool options in this box, like Japanese wagyu (and American Wagyu). Crowd cow is on this list because they offer Heritage pork, which is different than a lot of other options on this list.
While I wouldn't Say that crowd cow has the most variety of pork products from all of the options on the list, I can definitely taste the difference in the quality of their heritage pork.
To be honest with you, I didn't even know what heritage pork was until I signed up for Crowd Cow. Apparently, Heritage pork is like a purebred pig, unlike a lot of other pigs that have been crossbred with other Pig species. Believe me, once you taste Heritage pork for the first time, you'll be shocked at the taste difference. It's amazing!
Pros:
Crowd Cow offers a unique program where you can get discounts if you pay for a membership

The quality of their Heritage pork was a real game-changer for me

I love that Crowd Cow has a taste-testing requirement; it really makes me feel like they care about their customers
Cons:
I think their minimum order amount is too high and makes it unrealistic for some families to try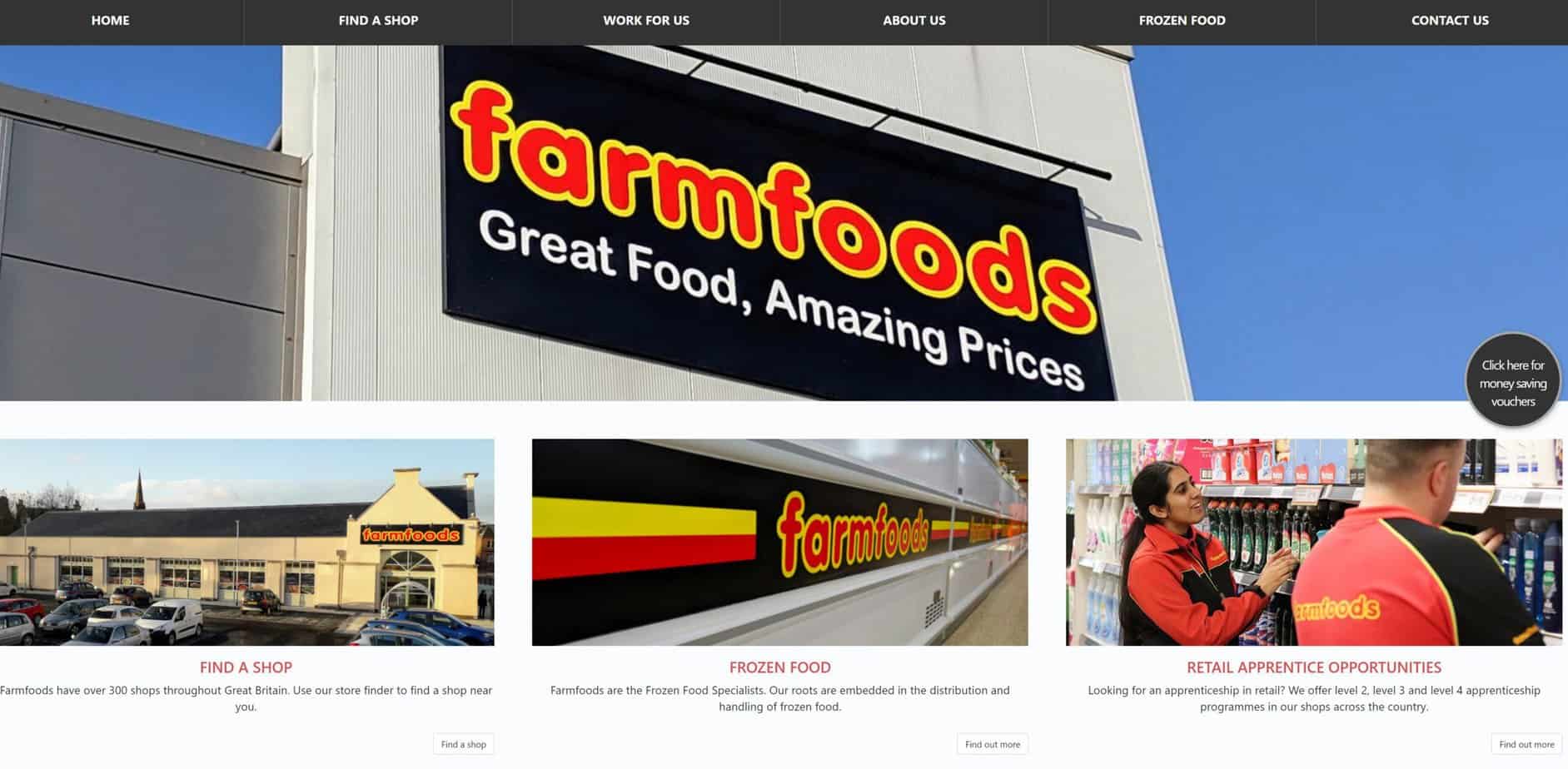 Farm Foods is a meat delivery subscription that a lot of people haven't heard of. I love that a lot of people haven't heard about it because it's one of those underdog subscription boxes that always leaves me surprised. By telling you guys about Farm Foods, this is my attempt to end gatekeeping on this amazing brand.
I love the brand message that Farm Foods puts out there too. They're tired of the mass-produced and mass packaged Meats ending up in our grocery stores. They're all about bringing back personalization and authenticity to nourishing and flavorful meat.
They have an incredible selection of pork products. I really hate how thin a lot of pork chops have gotten as the economy has gotten worse. I usually feel like I'm getting stiffed out of a couple of bucks when I purchase a pork package of how thin the pork chops are.
But Farm Foods pork chops take me back to the day when I was a young kid eating a thick pork chop. The pork chops that farm food provides are what pork chops are supposed to look like, and I'm not going to argue with anyone on that.
All of the heritage pork offered by Farm Foods is pasture raised. I think out of all of the options on this list, Farm Foods has unique pork finds. I personally love internal organs; I'm a huge fan of heart and chicken gizzards. Farm Foods has ham hocks, pork belly, and even pork lard.
I have such a hard time finding pork lard in my area, so I always make sure to stock up on a couple of pounds of this whenever I order from Farm Foods.
My favorite part? They even sell whole cuts of pig. You can literally buy a quarter of a pig on their website and have it shipped to your door. I have always dreamed of doing a pig roast, and Farm Foods has made this a much easier goal to obtain!
I could go on for days about the quality of their pork, but I don't even think words can describe how amazing it is. You've just got to try it for yourself.
Pros:
I love how Farm Foods offers options for the whole pig and parts of the pig that would be considered waste by most people

I support Farm Foods because of their transparency

I think it's so cool they offer so many different cuts of pork that you don't normally see, like ham hocks
Cons:
While I support Farm Foods trying to be less wasteful in their shipping practices, I do wish that they would send items in their packages that provided a little more insulation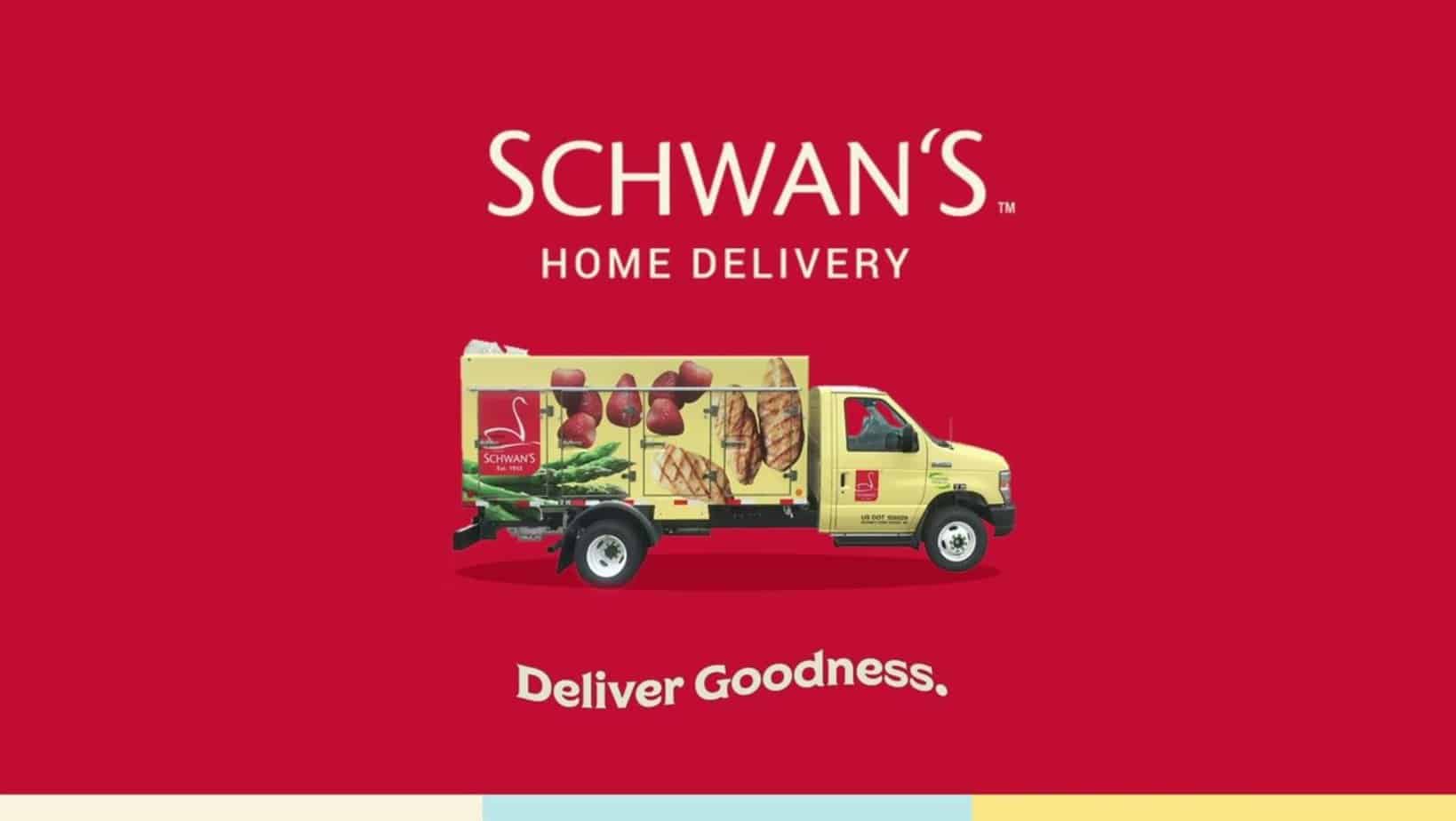 I may be partial because my husband works as a delivery driver for Schwan's foods, but I think their pork products are actually pretty good. They have a variety of other stuff, many pre-made meals that you can easily throw in the microwave or oven and feed a family.
But I enjoy their ham, bacon, and St Louis-style pork spare ribs. Some of the meats you can get preseasoned and pre-sauced, so you don't have to worry about doing anything but heating it up.
Their other pork products give you a little more wiggle room, and you can play around with flavors by yourself. The best part is you don't have to wait very long for your order to come to your door. You could literally place an order and have it delivered right to your doorstep overnight.
A local Schwan's delivery driver will drop your order off at your front door. You can set up a consistent delivery schedule, so you can have pork products delivered to you weekly, monthly, or bi-monthly. I also love how often Schwan's has sales because it helps me to save a ton of money when I buy some of their more expensive pork options, like their ham.
I wouldn't say Schwan's quality matches up to the quality offered by Good Chop or Farm foods. But I do think that the meat is really good and I love how quickly it'll arrive on your doorstep.
Pros:
You can order pork and receive a delivery to your doorstep the next day, so the speed of delivery is nearly unbeatable

a lot of the pork options offered by Schwan's are already cooked, so it takes the thought process out of your dinner
Cons:
If they can catch you while you're home, you'll likely have a delivery driver talk to you to try to buy more products from their truck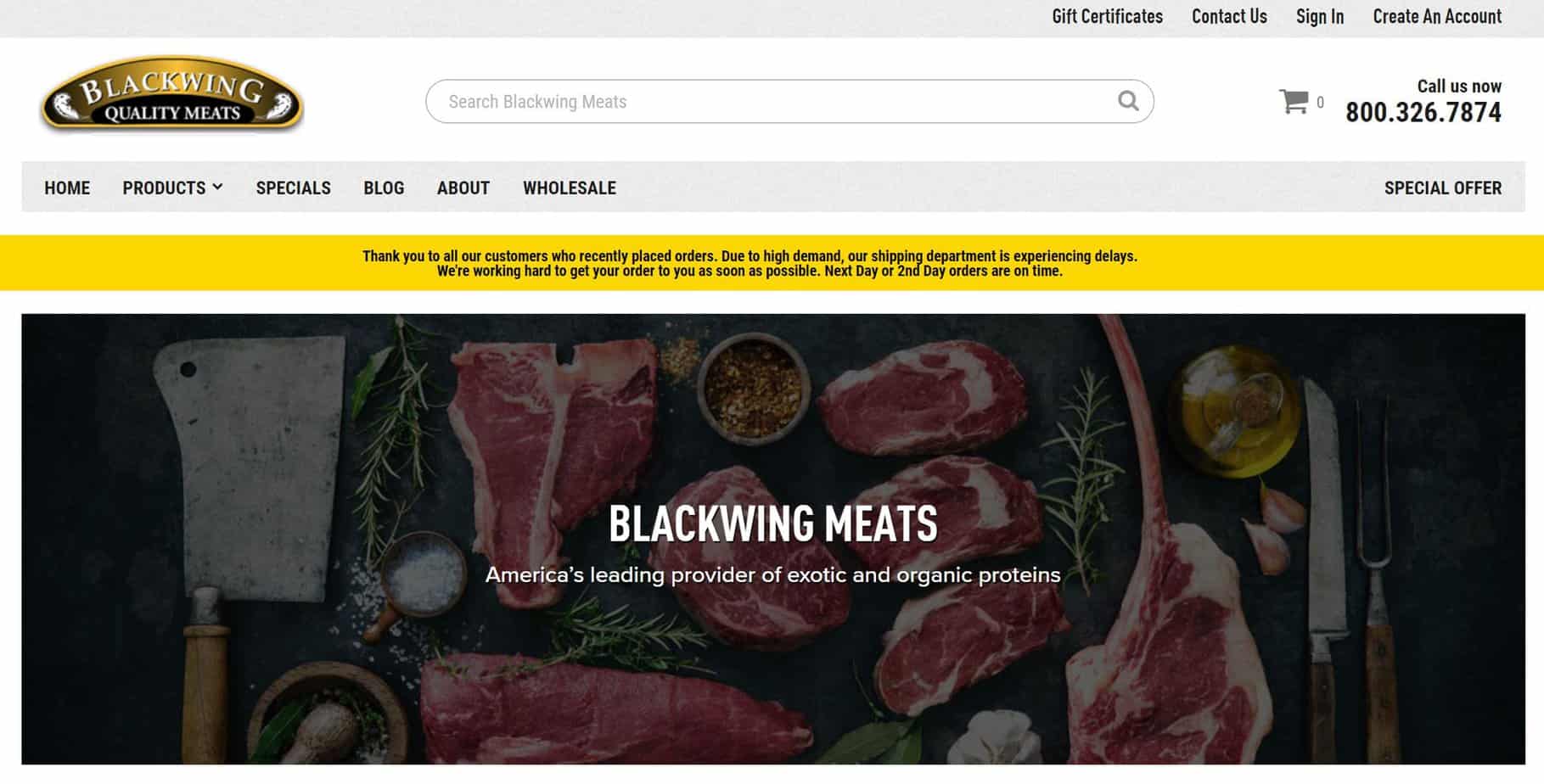 Please don't judge me for including Black Wing Meats in this list. I am literally obsessed with this website because I think it's so cool with all of the variety they offer. What other meat delivery service could you buy frog legs and an organic pork shoulder roast all at the same place? Nowhere. That's why I think Black Wing meats is so amazing.
I love their frog legs, bison burgers, and their pork brats. My favorite flavor of their pork brats is their wild rice and cranberry sausages. I haven't seen a flavor like this anywhere else, and it is so delicious. I literally feel like I'm dining at a five-star restaurant every time I order meats from Blackwing meats.
The flavors that they include in their meats are so unique and absolutely extravagant. Not to mention, I also love that they sell organ meats and bones. If you're not a huge fan of organ meat, I would recommend you skip to the next paragraph.
I think the quality of their organic pork kidneys and pork tongue is unlike anything I've ever tried before. It has a clean and rich taste, which I don't find in a lot of the pork kidneys that I've tried before.
I'm all about minimizing animal waste when it comes to processing needs, so I give Blackwing Meats a standing ovation for all of the parts that they offer. Plus, everything is actually very affordable.
I would say the prices offered by Blackwing meats are very comparable to the prices that you would expect to pay at Whole Foods. So you can play around and experiment with different flavors and meats, without having to break the bank. What more could there be to love?
Pros:
Tons of specialty meats and cuts available, even if you're only interested in buying pork products

Blackwing Meats has a USD certification

You aren't forced into buying a whole kit or box, unlike a lot of other companies here on this list. You can truly buy whatever you want
Cons:
Blackwing doesn't offer a lot of flexibility, and their shipping times and dates, so you're kind of stuck getting deliveries around the same time frame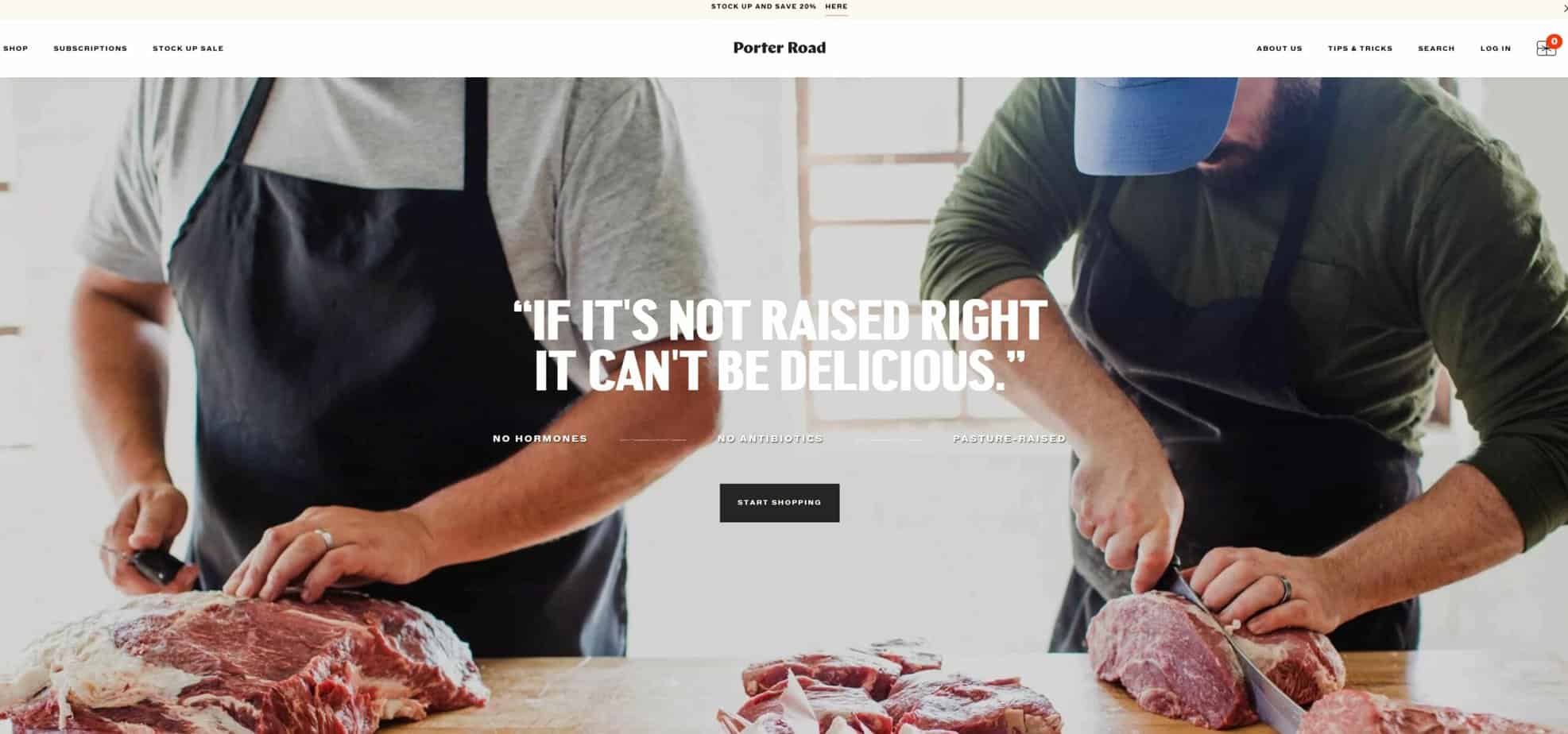 Little did I know that there was a place in the United States that was considered a hog heaven. Rittenberry Farms, located in Burna, Kentucky, is considered hog heaven. After tasting their pork products, I have nothing to argue against here.
I wouldn't recommend Porter Road pork to anyone that isn't looking to invest a pretty penny into their pork products. I understand why some people may want to put more money out for a pork meal, to ensure that it's high quality and there aren't any possible cancer spots or other hidden things you don't want in your pork.
I like to order from Porter Road when I'm trying to impress people. Their uncured pork belly is something I always order because I love to cook it up and impress all of my in-laws with it. After that, I'll top the meal off with a combo of their ground pork and chorizo sausage to make Hispanic-inspired burgers.
While I think Porter Road is a bit expensive, I don't think it's outrageously priced, either. For me, it's not something that I'm consistently ordering because I do like to take advantage of the good deals offered by Good Chop. But, I do like that Porter Road consistently offers sales on their pork products, so you can save money here and there.
Pros:
Offer frequent sales, which help to make their meats a little bit more affordable

You have the option to subscribe to a monthly box or purchase one time

I love the portion sizes from Porter Road
Cons:
Porter roads don't ship to all 48 states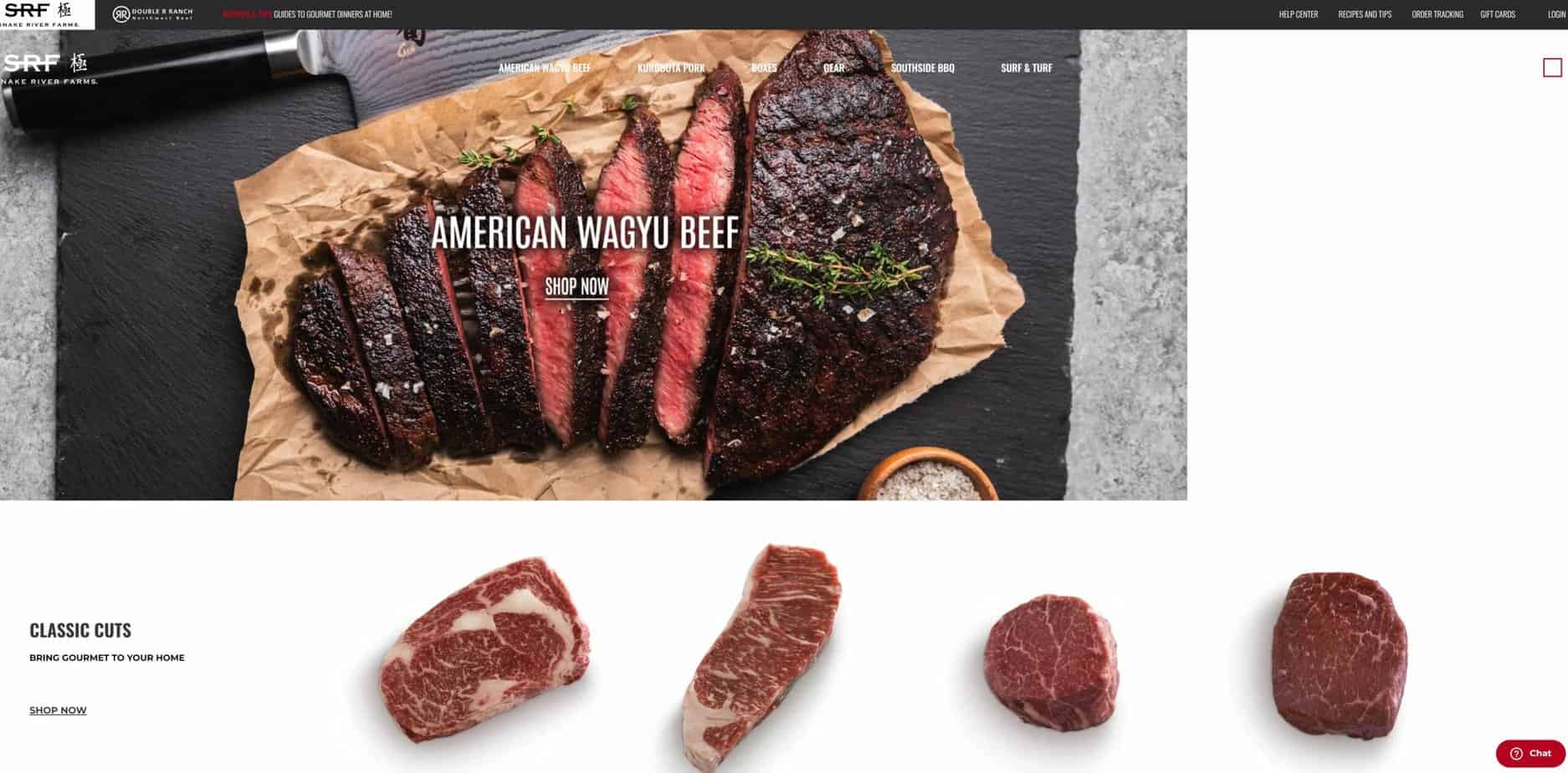 All right, you know that I had to include Snake River Farms here. Snake River Farms offers American Korubuta pork.
If you don't know what Korubuta pork is, It's a term for "black pig." While Korubuta pigs have been around for centuries, Korubuta pork is a rather new trend in cuisine. This type of pig has luxurious marbling, so it's basically like the wagyu of a pig. You'll get more of an intense flavor, along with the pork being more tender and juicy.
The cheapest cuts offered to buy Snake River Farm for the American Kurobuta pork are four short ribs for $30. Basically, these are the bougie cuts of pork. I don't think this is an option everybody needs to consider. However, I think this is a great option available for someone looking to plan a surprise dinner or have a stockpile of luxury meats in their freezer to save for special occasions.
I have tried the American Kurobuta pork shoulder, and it was life-changing. Honestly, it was one of the best pieces of pork I've ever had in my life, and it truly was such a luxury experience. I love that Snake River Farms offers a lot of other cool options, too, like a pork salami variety pack! I've never seen Kurobuta offered in salami, so this type of variety is awesome to see.
Pros:
Snake River Farms pork has a USDA prime rating

I love how all of the packaging sent by Snake River Farms is reusable

The marbling in the pork products offered by Snake River Farms is nearly unbeatable
Cons:
Their pork products are pretty expensive, even though the quality totally justifies the price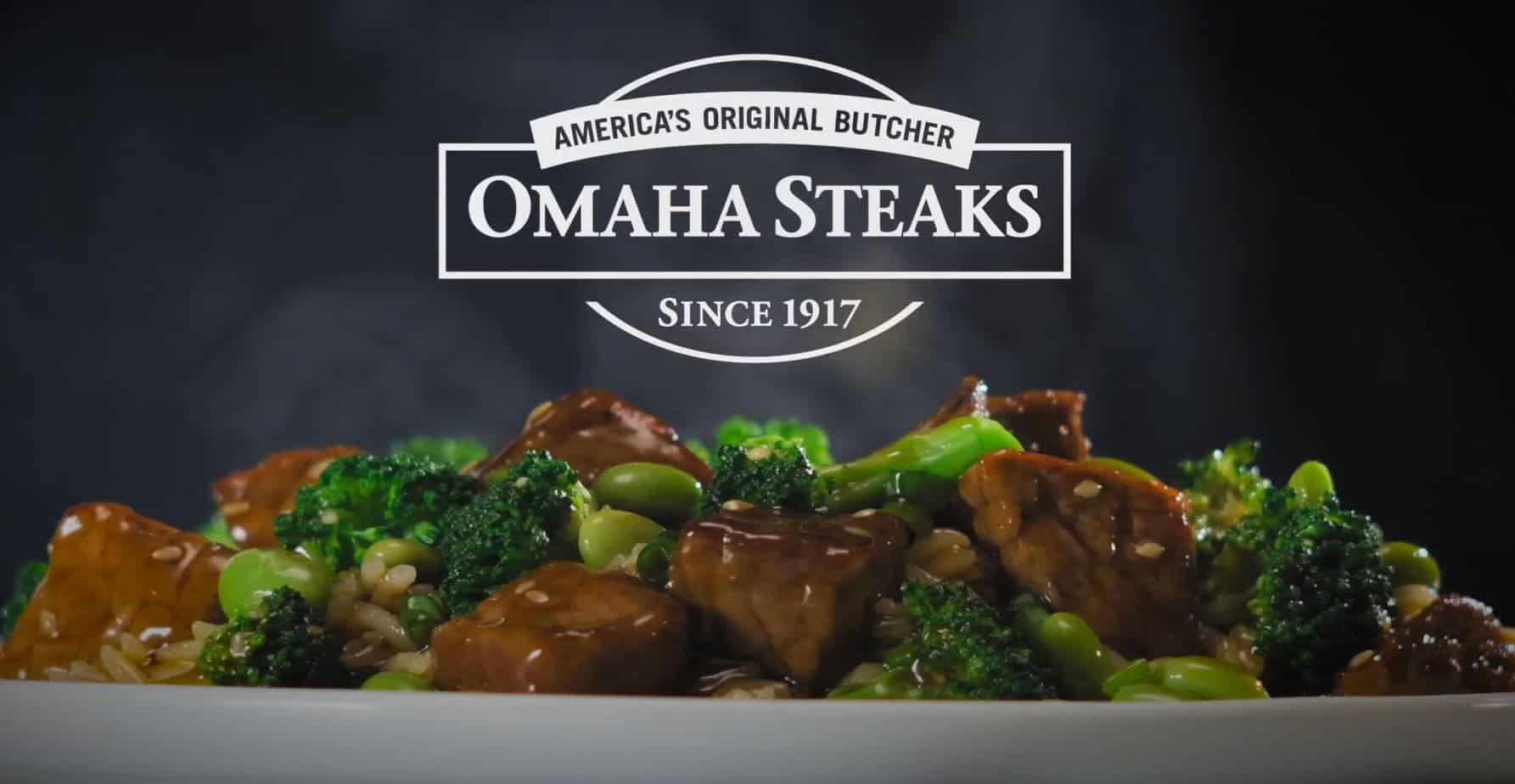 Now, you may be judging me because I include a company that literally has the word steak in their name when recommending pork products. I know, I know. But hear me out. Omaha Steaks offers many pre-cooked pork options, which would be great for a family looking to stop eating out as much but don't have the time to cook.
And the prices for these pre-cooked and pre-cut slices of meat aren't outrageous. For example, they have a fully cooked 2 lb pork pot roast for under $30. you could easily feed a family of six with this for a day or two without having to do all of the prep work and cook time that comes with making pot roast.
I love how many options Omaha Steaks has for pork dinners too. I have ordered from Omaha Steaks for a couple of years now, and I always make sure to order a couple of pork products, like bacon-wrapped pork chops or dry-aged pork rib chops, every time I place an order. I still have yet to try everything on their menu, and they're always adding new options too. I have yet to try anything that I haven't liked!
Pros:
I think the pre-made online meat delivery options offered are great for busy families who are trying to stay healthy

There are a ton of options to choose from, so it'll be hard to get bored with their pork variety

Huge portion sizes, which is great for feeding a larger family
Cons:
I hope that one day soon, Omaha Steaks will stop using Styrofoam in its packaging
Other Online Meat Delivery Honorable Mentions for Pork
While these didn't quite make the cut, they are worth considering as options:
FAQs
Question: What is the best pork delivery service?
Answer: I think Good Chop is the best pork delivery service on the market! They offer a decent variety, comparable to what you would find at the grocery store. Plus, I haven't yet had a cut of pork from this company that I haven't loved.
Question: Are pork delivery services affordable?
Answer: I absolutely believe so. I've found that some of the pork delivery services listed in this guide are more affordable than what I would pay at my local grocery store. Plus, the serving sizes are so much bigger than what I get at the grocery store. I'm able to feed my family more meals from one cut of pork than I would be able to if I bought the pork from a grocery store.
Question: How long can you store pork in the freezer?
Answer: I would only recommend you store pork in your freezer for six months. Many of these delivery services have customizable delivery plans, so if you find your freezer getting full, you can always skip a month!
Finding the Best Pork Delivery Services for your Family
Out of all of the options on this list, you can find a great variety of cheap and affordable cuts of pork and some high-end restaurant-grade options that you could save for date night.
Good Chop is my favorite option out of all of the boxes here because of the quality they offer at such an affordable price.
I can get high-quality meat that I would find at a mid-tier restaurant, but with grocery store pricing! No matter what option you choose on this list, you can't go wrong.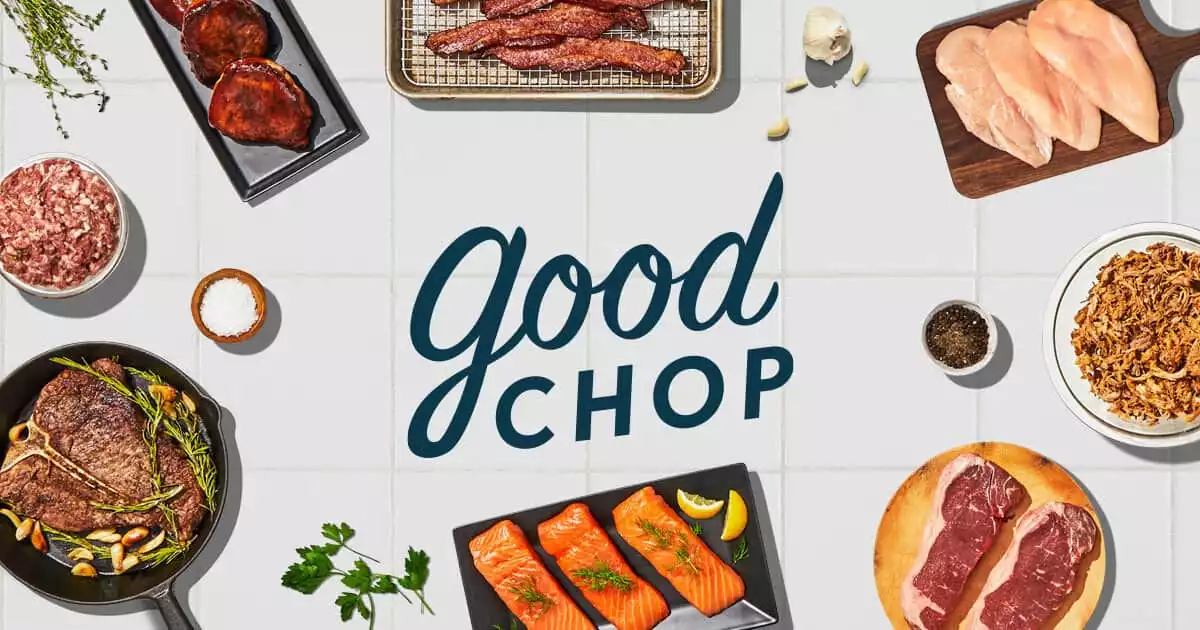 Related Reading on the Best Meat Delivery Service Options