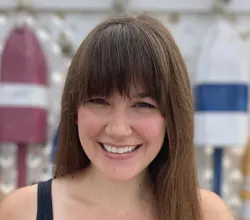 Latest posts by Lauren Vigdor
(see all)
I used to work in restaurants, which meant dinner each night was often something off the menu—always eaten way too quickly and way too late. Now I work from home full time, which means I'm tasked with coming up with ideas for dinner every night, not to mention breakfasts and lunches.
Don't get me wrong, I love to cook, and I love food even more, but sometimes I don't have the foresight or energy to plan a week or more of meals in advance. Especially when juggling multiple clients and an often variable weekly workload.
In a way, subscriptions like EveryPlate and Home Chef take me back to my restaurant days (minus the midnight dinners). Having a "menu" to choose from each night takes away the decision paralysis and planning that can make dinner so challenging. I still get to enjoy my time cooking my dinner, but I don't have to waste my precious evening hours doing a ton of prep.
With so many meal kit subscriptions to choose from, I decided to compare two of the most popular, EveryPlate vs Home Chef, to see which made the most sense for me.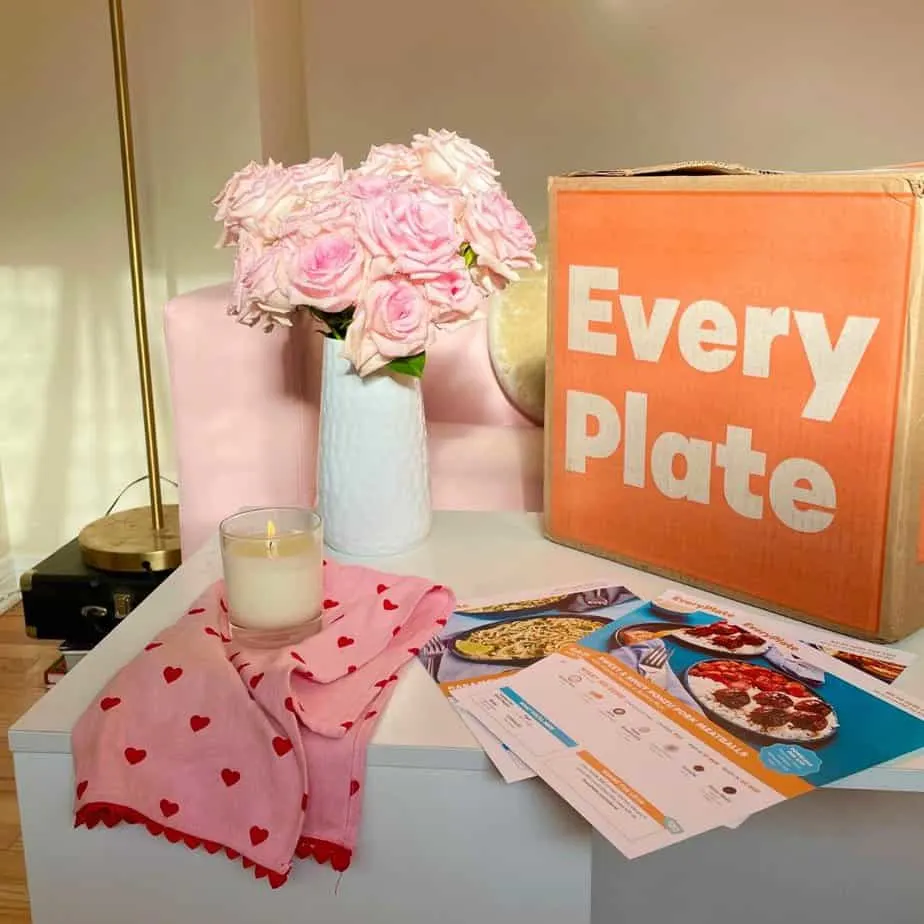 Bottom Line Up Front
EveryPlate is better for people who are new to cooking or those who want their dinners as quick and easy as possible. It's also several dollars cheaper per serving than Home Chef. Home Chef is a great option if you want to get a little more involved with your cooking or want your meals to be more customizable.
I'm a pretty experienced cook, and I like Home Chef's wider selection and customization options, so that's the service that I think makes the most sense for me. I do love how easy and affordable EveryPlate is, though!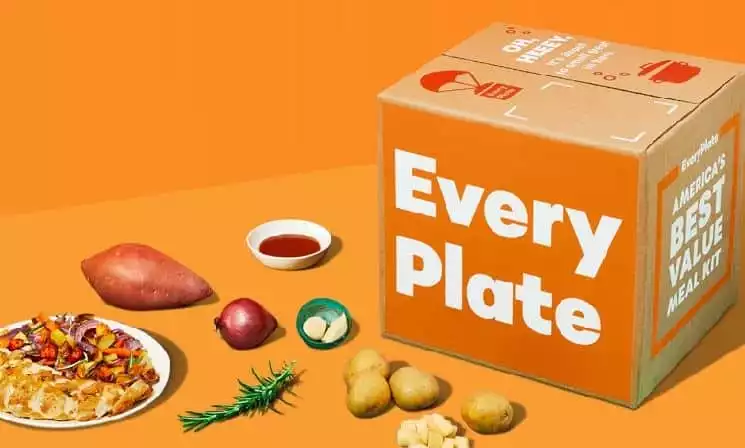 Also read: EveryPlate Review: Most Budget-Friendly But Is It Worth It?
The Main Differences between EveryPlate and Home Chef
EveryPlate offers meals that start at around $4.99 a serving, whereas Home Chef can cost twice that.
EveryPlate's meals are simple, with few ingredients and easy cooking steps, whereas Home Chef offers a range of simple dinners to more involved restaurant-quality meals.
EveryPlate is shipped with minimal packaging, whereas Home Chef uses a lot of plastic bags.
EveryPlate offers a selection of 26 meals per week, none of which can be customized, whereas Home Chef offers dozens more meals in a variety of cuisines and preparation difficulties, many of which can be further customized.
EveryPlate stocks its meal kits with average-quality produce and protein, whereas Home Chef's ingredients are much higher quality.
EveryPlate's meals serve up to four people, whereas Home Chef's serve up to six.
Everything You Need to Know about EveryPlate
EveryPlate is a meal kit subscription service that delivers easy-to-prepare, home-style meals directly to your door. It's one of the most affordable meal subscriptions on the market, averaging as little as half the cost of some of its competitors.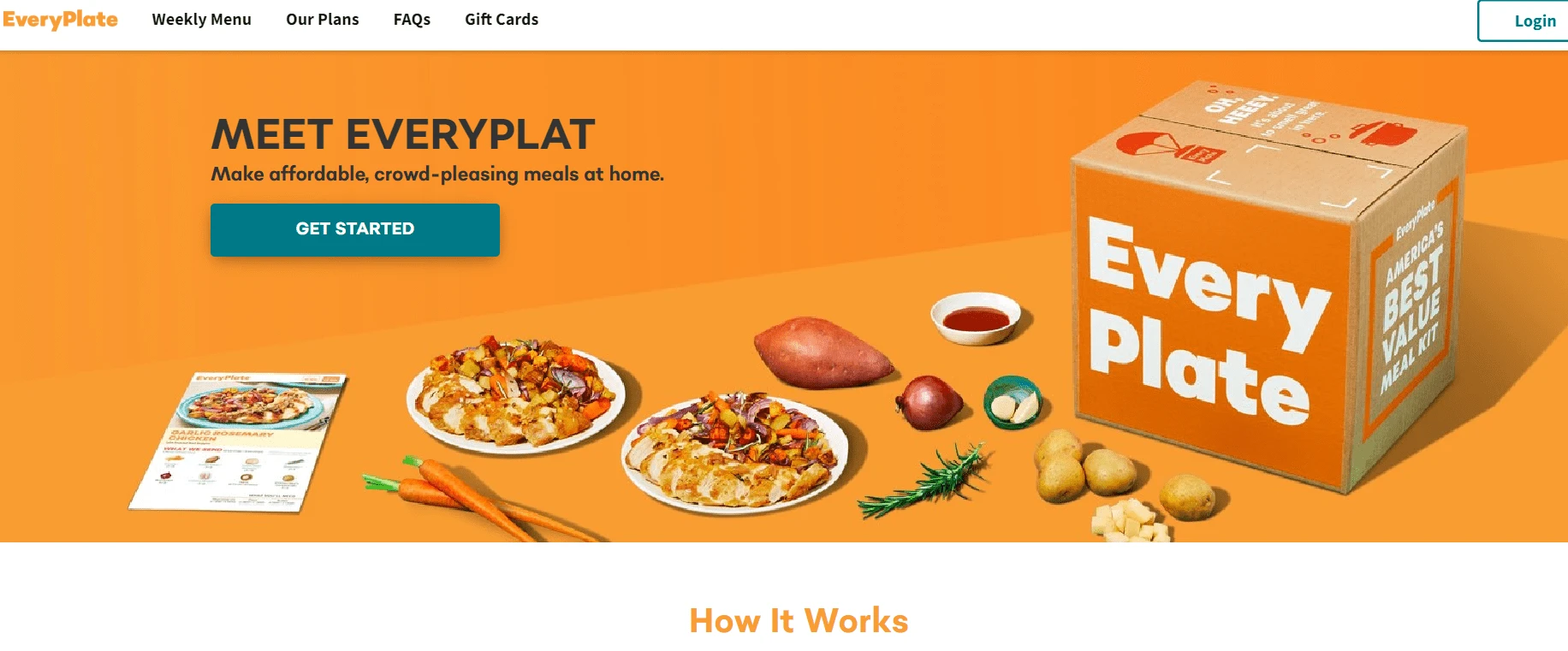 Sign Up and Cancellation
When you sign up for an EveryPlate subscription, you'll be able to choose how many meals you want to receive per week (between three and six), if you want two or four servings per meal, and pick your weekly delivery date (depending on your location).
You can also set a preference for meat and veggie, just veggie, family faves, quick and easy meals, or "nutrish and delish" meals, which contain 650 calories or fewer. You can select each of the meals you want sent each week, but these preferences will dictate which meals are suggested to you first and which are used to auto-fill your box if you don't choose your meals for the week.
Setting these preferences can be helpful but not super reliable, so I would suggest making sure to review and select your individual meals each week if you have any dietary restrictions or food aversions since the EveryPlate platform isn't really set up to cater toward specific diets of food allergies.
It's easy to skip or pause delivery from your account page, and to cancel, all you have to do is log in and click a button—I can't stand it when companies make you go through customer service to cancel, so this is a major plus for me.
Selection and Customization Options
EveryPlate offers a rotating selection of about 26 meals per week. I would describe their meals as classic, home-style comfort food. It seems that most tend to fall under one of the following categories:
Sandwiches with Potato Wedges
Stir Fry/Rice Bowls
Pasta Dishes
Hearty Soups/Salads
Tacos
Meat + Veggie Side + Carb Side
I checked more than a month's worth of recipes and didn't see any meals repeated, but according to other users, online meals do come back around. That means that you hopefully won't get sick of eating anything too frequently, but you'll also be able to reorder favorite meals once they pop up again.
Of the 26 meals offered each week, only a handful are vegetarian. There were no vegan options in the few weeks that I searched. Some of the meals are labeled "feel-good food," but there is no designation for various dietary restrictions, such as gluten-free, keto, or paleo options.
If you're looking for a "healthy" option, you can customize your subscription by selecting a preference for "Nutrish and Delish," which will prioritize recipes that are 650 calories or less.
Some of the meals are labeled "premium" and carry an additional cost of around $4.99 to $6.99 per serving. These tend to feature more expensive ingredients, such as steak or salmon.
EveryPlate's meals are simple and use a minimal amount of ingredients. Most of them are kid-friendly and include easily-recognizable ingredients with minimal processing. I think even the pickiest eaters would have no trouble finding enough meals to fill out their boxes each week.
There are also add-ons available each week that can be included in your box. These include additional proteins, like chicken breasts or sausage mix; sides such as mac and cheese, bagged salads, soups, and vegetables; breakfast and lunch items, like egg bites and figgy grilled cheese; and desserts, such as cheesecake or molten chocolate cakes.
I like that they give you the option to add items to your box, but I wish they had just a few more add-ons consistently available. For example, one week, there was no dessert option (tragedy!), and another week, had two different types of grilled cheese available, while the week before, the only "lunch" add-ons were soups or bagged salads.
As someone who struggles to make breakfast most mornings, I would definitely take advantage of some more quick breakfast options as well.
None of the meals are customizable, but many of the recipes have instructions for swapping out the protein or one of the sides for an alternative option, which you can purchase as an add-on. Just know that if you choose to do this, you'll have the original protein/side left over to find something to do with!
Delivery and Shipping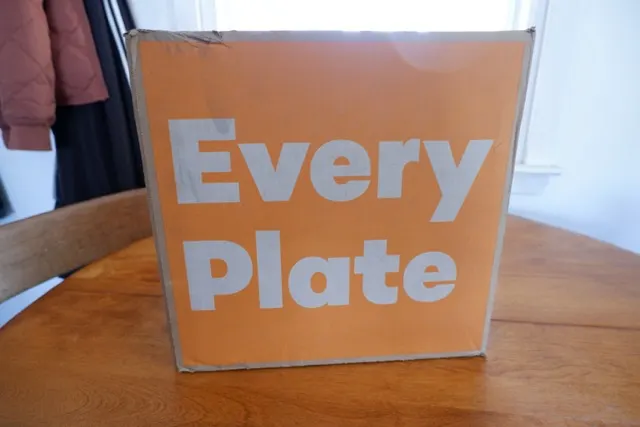 EveryPlate delivers almost everywhere within the continental United States (you'll have to enter your zip code on their website to see if delivery is available near you) for a flat rate of $9.99 per week. I ordered a box, and it arrived quickly and was still very cold when I opened the box.
Cost
EveryPlate is one of the most affordable meal subscription boxes on the market, but it won't quite clock in at the $4.99 per meal that they advertise. The $9.99 shipping fee alone will bring the cost up to $5.40 per serving at a minimum, and that's only if you order the maximum amount of meals per week (24).
Ordering fewer meals per week will mean each one costs up to a few dollars more per serving, and premium entrees add another few dollars per serving to your order. That being said, most meal subscriptions operate on a similarly-scaled pricing model, and EveryPlate is still one of the most affordable out there.
Cooking Difficulty
You'll need some pantry basics to cook your EveryPlate order, like oil, salt, pepper, and flour. I was surprised that I actually needed ketchup, mayo, and hot sauce for one of the recipes that I cooked—I assumed that they would include these types of ingredients in the box.
You'll also need some basic kitchen tools, like a knife, pan, or baking sheet, as well as some not-so-basic ones, like a zester or potato masher.
The box included large, colorful recipe cards for each meal. Each of the meals I tried had five or six steps listed on the card and said they'd be ready in 30 minutes. The instructions were easy to follow, even for someone without a lot of cooking experience. The large photos accompanying each step of the recipe were very helpful, though many of those six "steps" were really three or four steps in one.
Quality and Packaging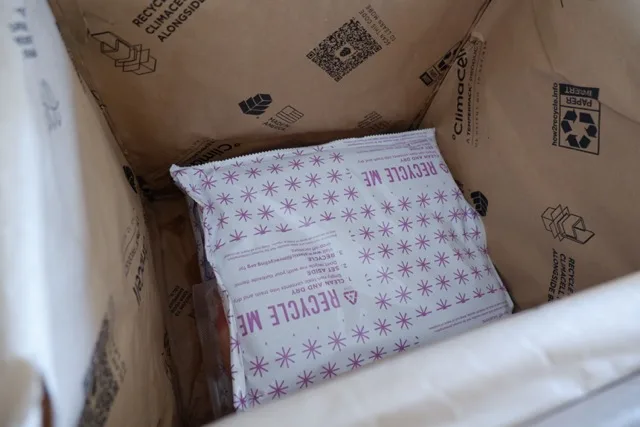 My order was shipped in a cardboard box with recyclable insulated lining. I was impressed by the overall lack of plastic packaging. All of my produce was loose in a cardboard box, which I suppose could lead to damaged or bruised items, but I think I prefer this to services that individually wrap each item in plastic.
They gave me whole produce, even when I didn't need it. For example, one of the recipes called for two cloves of garlic, but they included the whole bulb of unpeeled garlic in the box rather than separating out two cloves.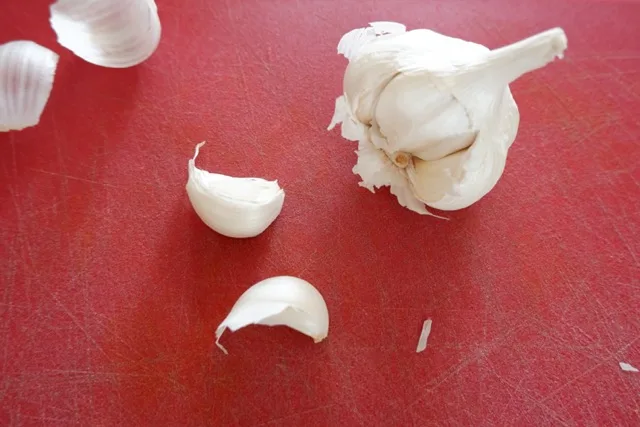 Underneath the produce box were two recyclable ice packs sandwiching my vacuum-packed proteins. The color images on the front of the included recipe cards made it easy to sort which ingredients went with which dish.
Overall, I would say that the quality of ingredients I was given was decent but not outstanding. I intentionally ordered a recipe that included a tomato, thinking it would be one of the more fragile ingredients. It arrived unbruised and in ok shape, but my lime was dried out, and the chicken I was given left something to be desired.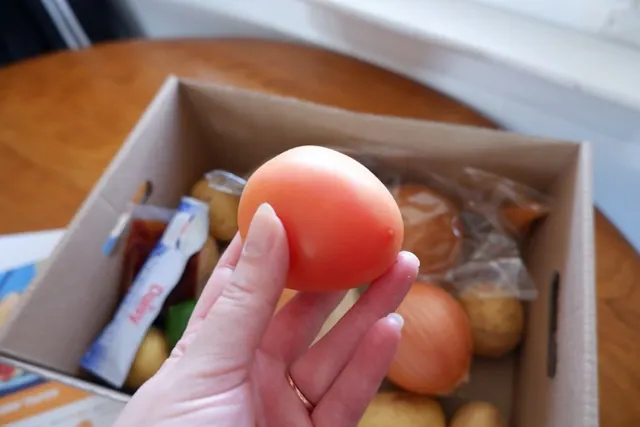 Cajun Chicken Sandwiches
One of the meal kits I ordered made two Cajun chicken sandwiches, and while the sandwiches were very tasty (thanks mainly to the included blackening spice mixture), one of the two half-breast sized pieces of chicken I received was a shredded mess. It wasn't spoiled, and I could still cook with it, but it wasn't very aesthetically pleasing and cooked a little unevenly.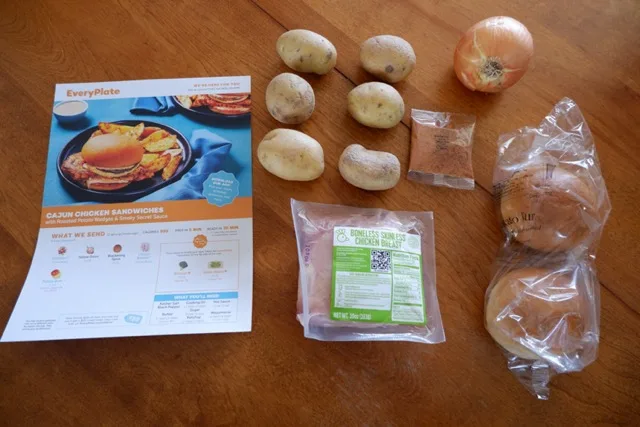 That being said, both of the meals I made were very easy to make (they took around 40 minutes each, even with stopping to take photos along the way) and were delicious, especially for the price. The portions aren't huge, but the meals were hearty and filling.
Tex-Mex Marinated Pork Tacos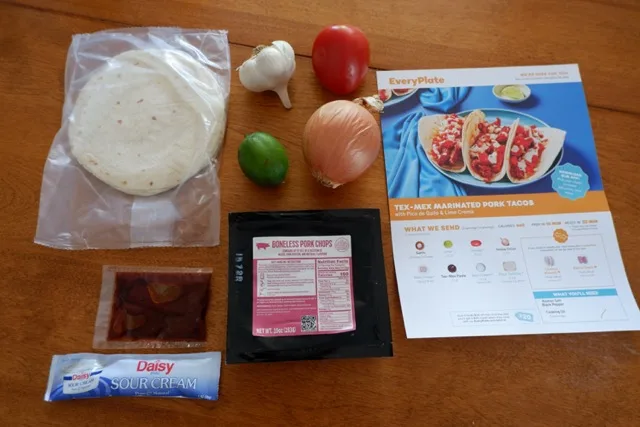 Pros and Cons
Pros
EveryPlate's recipes are simple and easy to follow.
I love that they use minimal packaging.
They're one of the most affordable meal subscriptions on the market.
Many of the meals are kid and family-friendly.
Cons
One downside of EveryPlate's minimal packaging is that you have to sort your ingredients yourself, unlike some companies that gather each recipe's ingredients into an individual bag.
I wish they had a larger assortment of both meals and add-ons available each week.
EveryPlate doesn't really cater to food allergies or dietary restrictions.
None of the meals are customizable when you order them. You have to order extra ingredients and swap them in for existing ones, which means you'll have random ingredients left over.
My Thoughts on EveryPlate
EveryPlate is a great subscription for affordable, easy-to-cook, "meat and potatoes" type meals. It's a great beginner meal subscription since the recipes are easy to follow and will help teach a novice to cook, and the meals are affordable and low commitment.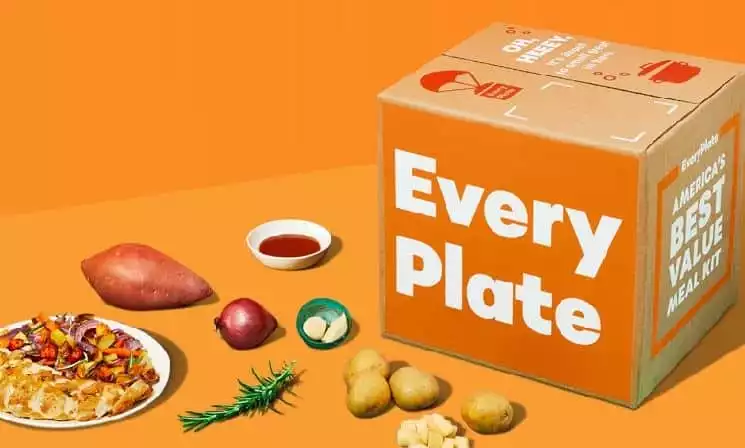 Everything You Need to Know about Home Chef
Home Chef is a slightly more upscale meal kit subscription than EveryPlate. The meals are a bit higher quality, and many take some extra time and effort to prepare. The service is great for people who already love to cook and want to improve their skills.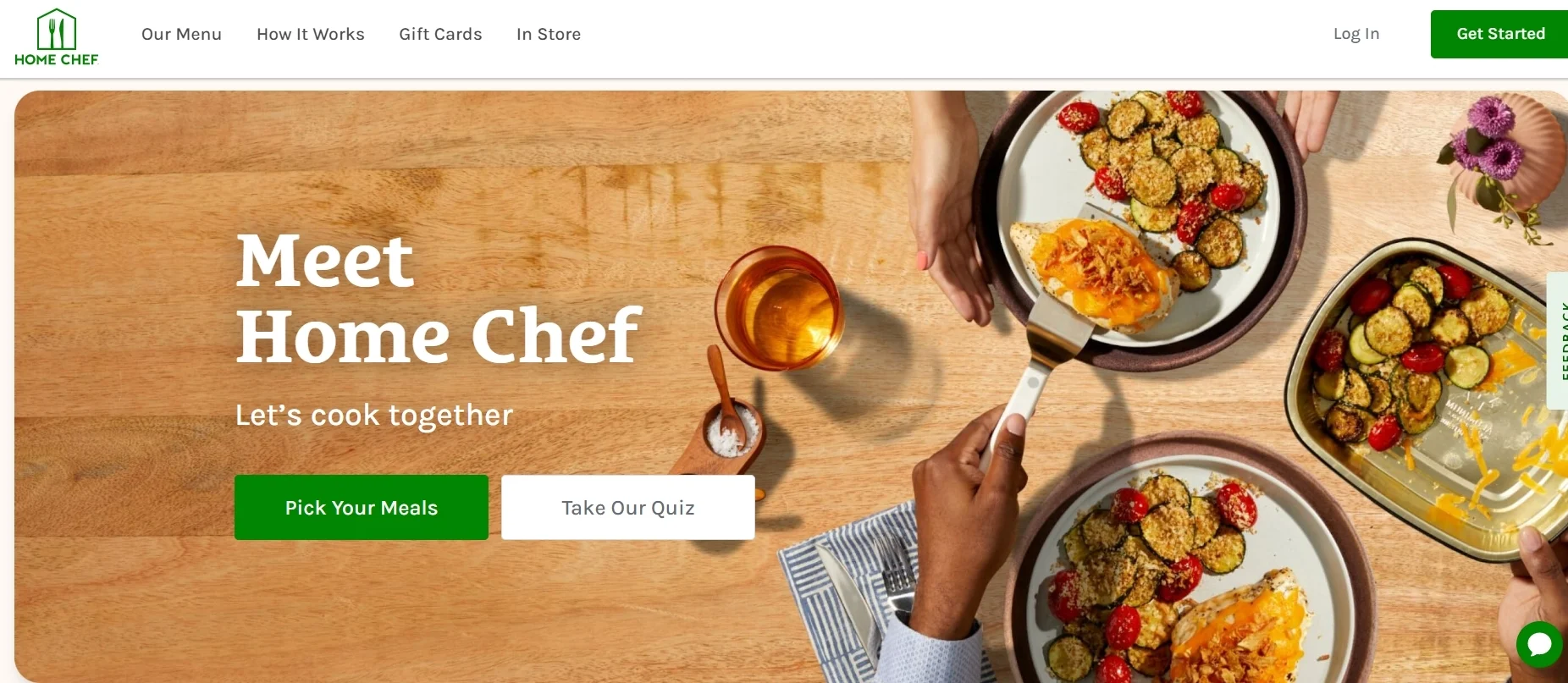 Sign Up and Cancellation
When you sign up for Home Chef, you can select your preferences for prep difficulty level, dietary preferences (vegetarian, calorie-conscious, or carb-conscious), and you'll be asked if there are any ingredients you'd like to avoid, such as fish, shellfish, tree nuts, mushrooms, or pork.
Just like with EveryPlate, you'll be able to select your individual meals, but these preferences will help determine what auto-fills your box should you choose to "set it and forget it" or simply forget to select meals for a week.
You can choose to have two to six meals delivered per week, choose whether you want meals to serve two, four, or six people, and select your preferred weekly delivery date.
One thing that I really like about Home Chef is that you can choose your meals up to five weeks in advance, so you don't have to worry about logging on each week to update your order or fall at the mercy of the auto-fill gods.
Since Home Chef is owned by The Kroger Company, you can also find their meals and meal kits in Kroger grocery stores, which is great if you want to pick up something quick and easy when you're on the go.
Selection and Customization Options
Home Chef offers one of the largest selections and greatest variety of meals I've seen from a meal kit subscription service. Each week they offer dozens of meal kits and nearly 20 add-on items to choose from. The meals rotate each week and are broken down into the following categories:
Meal Kits — These are Home Chef's standard meal kits that take around 30 minutes to prepare.
Express Meal Kits — These kits take about 15 minutes to prepare and often include pre-prepped ingredients.
Culinary Collection — These meal kits are made with premium ingredients and include some more involved cooking techniques. They're perfect for a special occasion or for anyone looking to refine their cooking skills.
Oven-Ready — These meals are ready to heat and eat. They come in an oven-safe tin that you bake them in and can eat them out of, so there are no dishes to do.
Grill-Ready — These meals can be assembled in a grill-safe bag and thrown right on the grill.
Fresh & Fast — These are more heat-and-eat meals that can be microwaved or warmed in the oven.
In addition to the different cooking difficulty levels, Home Chef offers a wide variety of types of cuisine. When you sign up for your subscription, you'll be prompted to select any dietary restrictions or allergies you might have and asked if there are any foods you'd prefer to avoid.
There are also plenty of vegetarian, calorie-conscious, carb-conscious, and wheat-free meals offered each week.
One of my favorite features that Home Chef offers is their "Customize It" feature. Many of their meal kits can be customized by swapping out the protein for a different type of protein, doubling the amount of protein included in the kit, or upgrading to a better cut or quality of protein.
This makes it super easy to customize your meals to your liking, especially if you have food aversions or dietary restrictions. The best part is that you can make the changes right online as you're choosing your meals for the week.
I also really love how many add-on options Home Chef has. You can add egg bites, baked goods, bottled smoothies, and canned lattes (from La Colombe, one of my favorite Philly-based coffee chains) to each box, which means you can have breakfast covered for the week.
They also have a ton of snack, side, and lunch add-ons to choose from each week, like pretzel bites, charcuterie boards, soups, salads, and pizzas.
Just like EveryPlate, Home Chef also offers a la carte protein as an add-on, but they have a wider selection of options each week, including large protein packs meant to serve a crowd (or freeze for later use!)
Finally, there are plenty of weekly dessert add-ons to choose from. I've currently got my eye on the ready-to-bake cookie skillet, which I'm happy to report seems to be available in at least one flavor each week.
Delivery and Shipping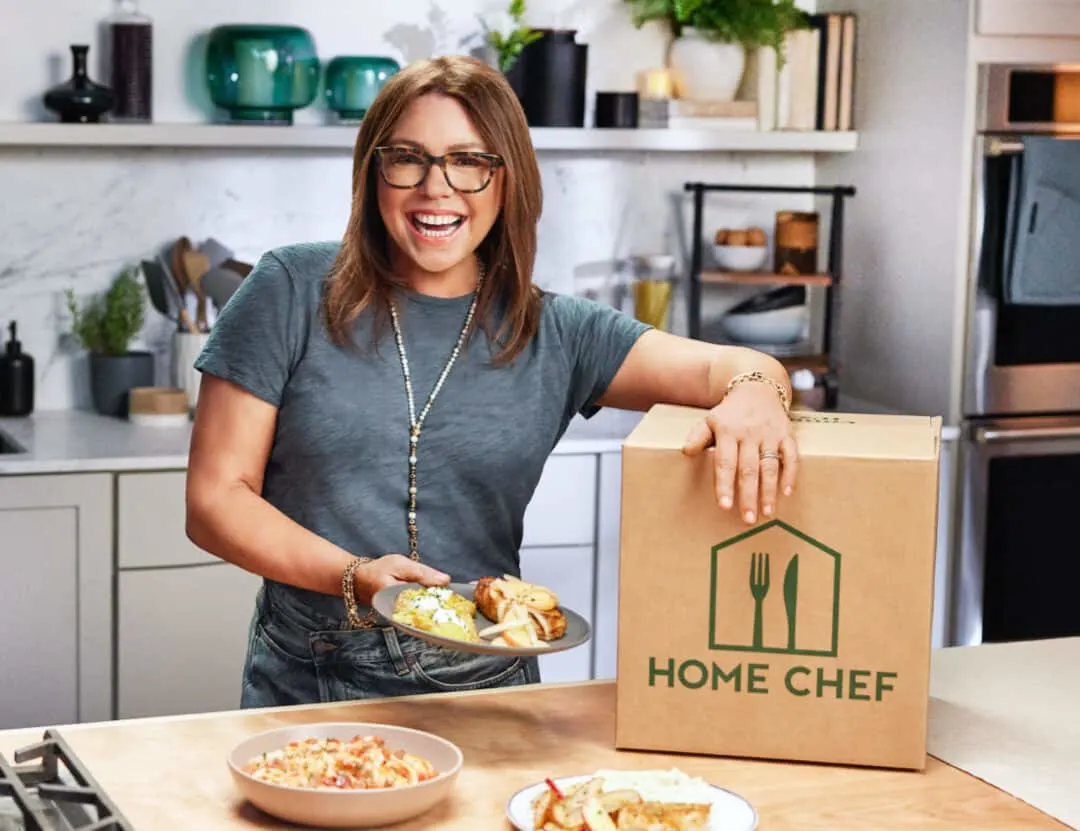 Like EveryPlate, Home Chef delivers weekly to most of the continental United States. You can select your preferred delivery date when you place your first order and update it from your account page, though not all weekdays will be available for delivery in all locations.
Everything ships for a flat rate of $10.99 per box, except for the smallest subscription size (two weekly meals for two people), which ships for $13.99 per box.
Everything is shipped in a cardboard box lined with insulation made from recycled denim. Non-toxic ice packs keep everything cool during transit and until you can retrieve the box from your doorstep.
One thing I didn't like about Home Chef's packaging is that they use a lot of plastic, especially when compared to EveryPlate. Individual ingredients and meal kits are all packaged in plastic bags. While their website states that the plastic is recyclable, you need to take it to a location that recycles plastic bags, which isn't always readily available to everyone and will take time out of your week.
Cost
Home Chef's meals cost more than double the average EveryPlate meal, and just like with EveryPlate, your average meal cost is probably going to add up to more than what's advertised once you factor in shipping, customization, add-ons, and the culinary collection. The order minimum is $47.96 each week, not including shipping costs or add-ons.
Cooking Difficulty
Just like EveryPlate, Home Chef's meal kits arrive with a full-color recipe card with detailed pictures and easy-to-follow instructions. Some of the meals, especially the Culinary Collection, feel more like an at-home cooking class than a meal kit.
I really love that Home Chef has so many different categories of difficulty levels available. You can stock your box with only meals that suit your comfort level, challenge yourself to try something more involved, or plan your weekly meals around a heavy work schedule or special occasion.
Quality and Packaging
As I previously stated, I don't love how much plastic packaging Home Chef uses, though I suppose, in some cases, it will reduce food waste. For example, if a recipe calls for two cloves of garlic, they'll send you two cloves of garlic in a plastic bag rather than a whole bulb of garlic like EveryPlate.
Their ingredients are high-quality, especially the ones used in the culinary collection meals, and I love that you can use the customize it option to upgrade or swap out proteins.
I also think that Home Chef offers some of the most varied and exciting meals of any subscription service. It's an excellent choice for an adventurous eater, though they do still have plenty of simple home-style comfort dishes as well.
Pros and Cons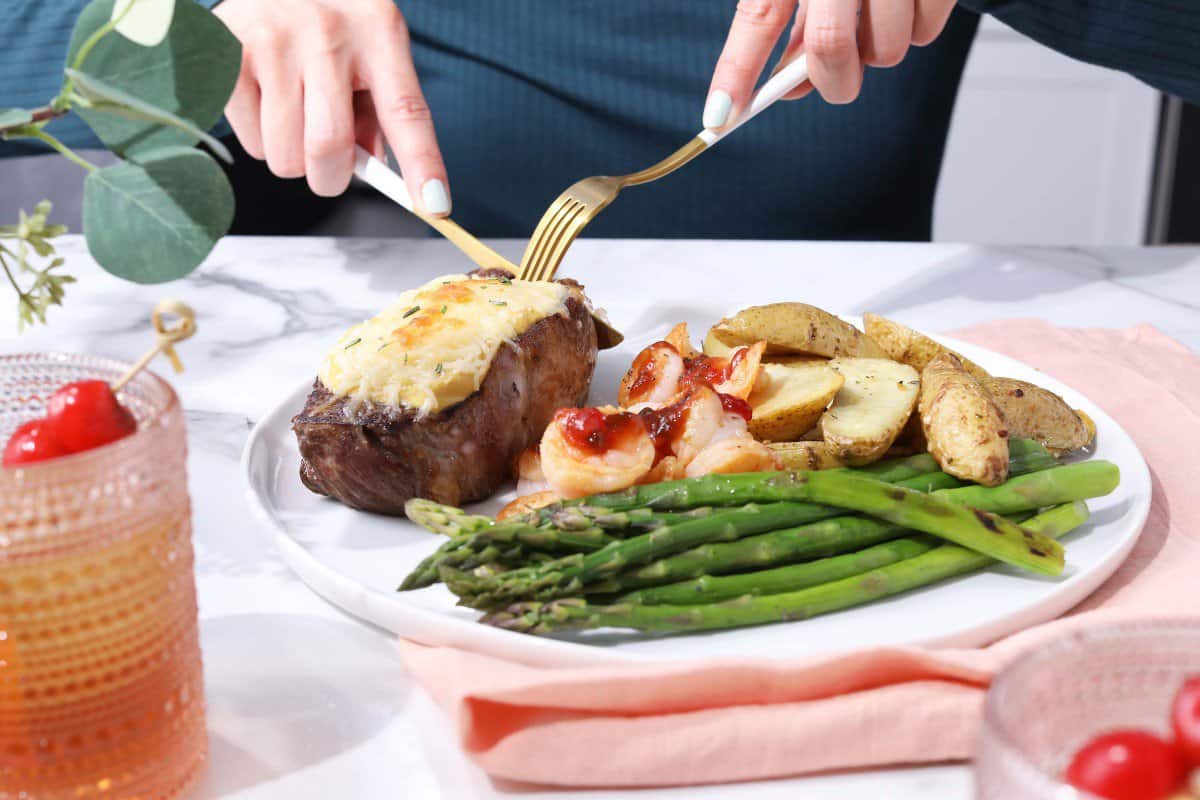 Pros
In my opinion, Home Chef's meals are among the highest-quality meal subscriptions in their price range, both in terms of recipes and ingredients.
I love that the Customize It feature allows you to swap out the protein or sides in many of their meals.
They have a huge selection of meals and add-ons to choose from each week.
I love that you can choose meals from various difficulty levels each week. I would definitely add a few extra ready-to-eat meals if I knew I was going into a heavy work week or some more involved Culinary Collection meals if I wanted some romantic evenings at home.
This is one of the best meal subscriptions if you want to learn how to cook.
Home Chef is great for larger families since they offer plans with six servings per meal.
Cons
Some of Home Chef's recipes are more involved and time-consuming than those from similar services, though this isn't a problem if you enjoy cooking.
It's more expensive than some other similar services.
I really don't like how much plastic Home Chef uses in their packaging.
Home Chef isn't great if you have food allergies.
My Thoughts on Home Chef
I don't think you can beat Home Chef's quality and selection, but they are on the pricey side. It's a great option if you want to create restaurant-quality meals at home. I like to think of Home Chef as both a meal subscription and a hobby box in one. It's especially great if you want to prepare meals as an activity with a loved one.
Other Alternatives to Consider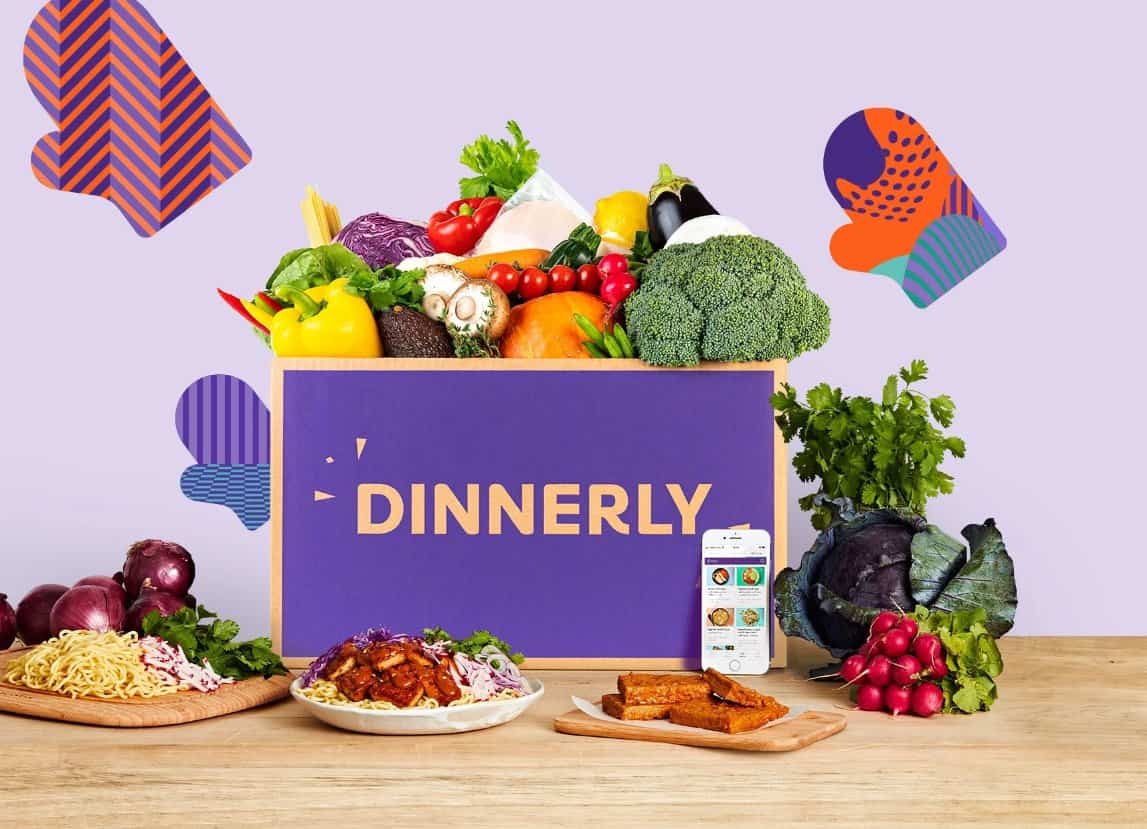 Dinnerly is one of the closest alternatives to EveryPlate on the market; its prices and ingredient quality are very similar. They have a much larger selection than EveryPlate, but some of their meals tend to be less adventurous, though there are still plenty of kid-friendly options.
They're also a bit more accessible for those with dietary restrictions, as their meals are clearly labeled with designations like dairy free, no added gluten, and low carb. Unlike EveryPlate, many of Dinnerly's meals are customizable with different protein options.
Dinnerly saves some money by not printing recipe cards. Instead, you'll have digital recipes emailed to you the day before your box arrives. You can also always access Dinnerly's recipes from their website.
Dinnerly is a great choice for anyone looking for a larger selection than EveryPlate carries, sold at a similar price point. It's also one of the best options for families with children.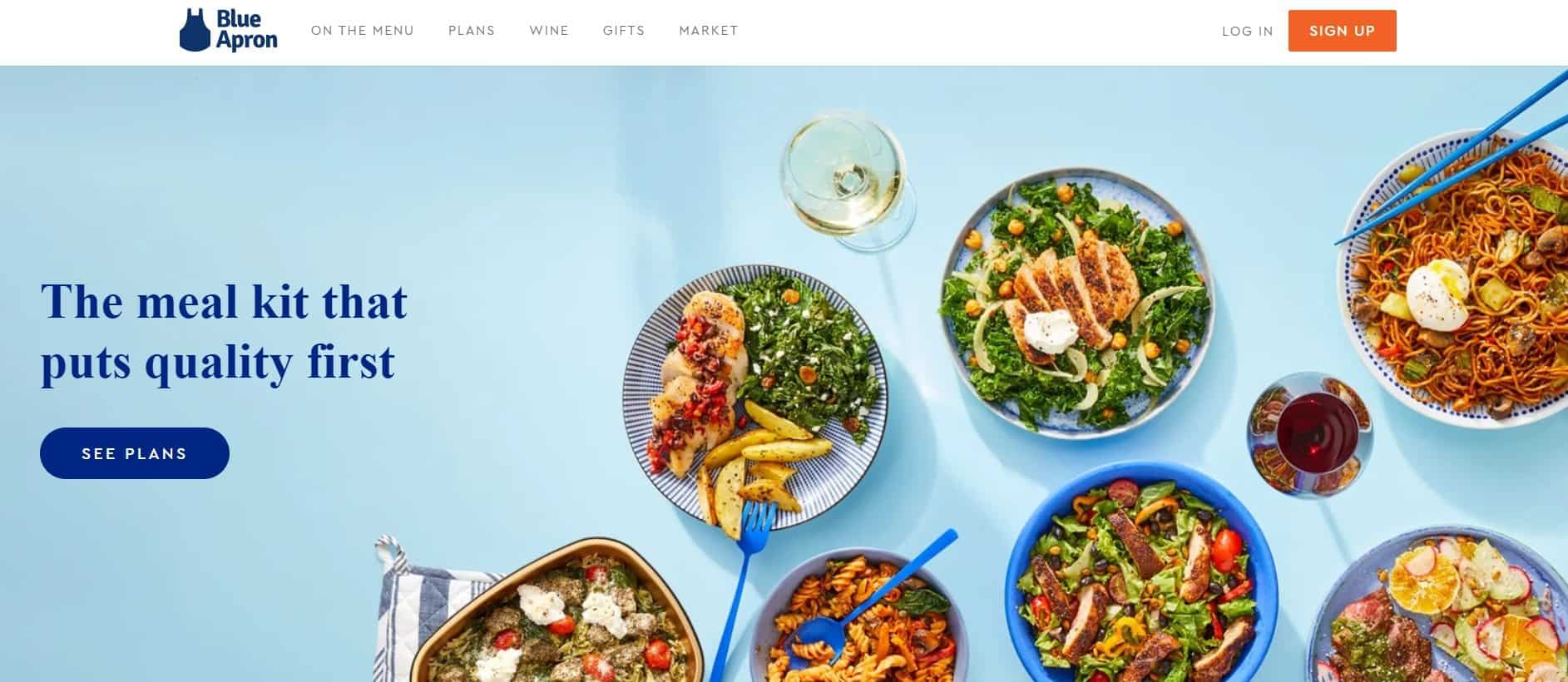 Blue Apron is one of the original meal subscription services, and it's the ultimate for a foodie looking to sharpen their skills. It's another "higher-end" meal kit similar to Home Chef, stocked with quality ingredients and restaurant-worthy recipes. Like Home Chef, it's more expensive than many of its competitors, though it does offer fewer meals to choose from each week.
In addition to meal kits, Blue Apron also offers a wine pairing subscription and a marketplace selling pantry items and cookware.
Blue Apron is the best choice for anyone who wants a challenge, wants an at-home cooking lesson, or to give as a gift to the foodie in your life.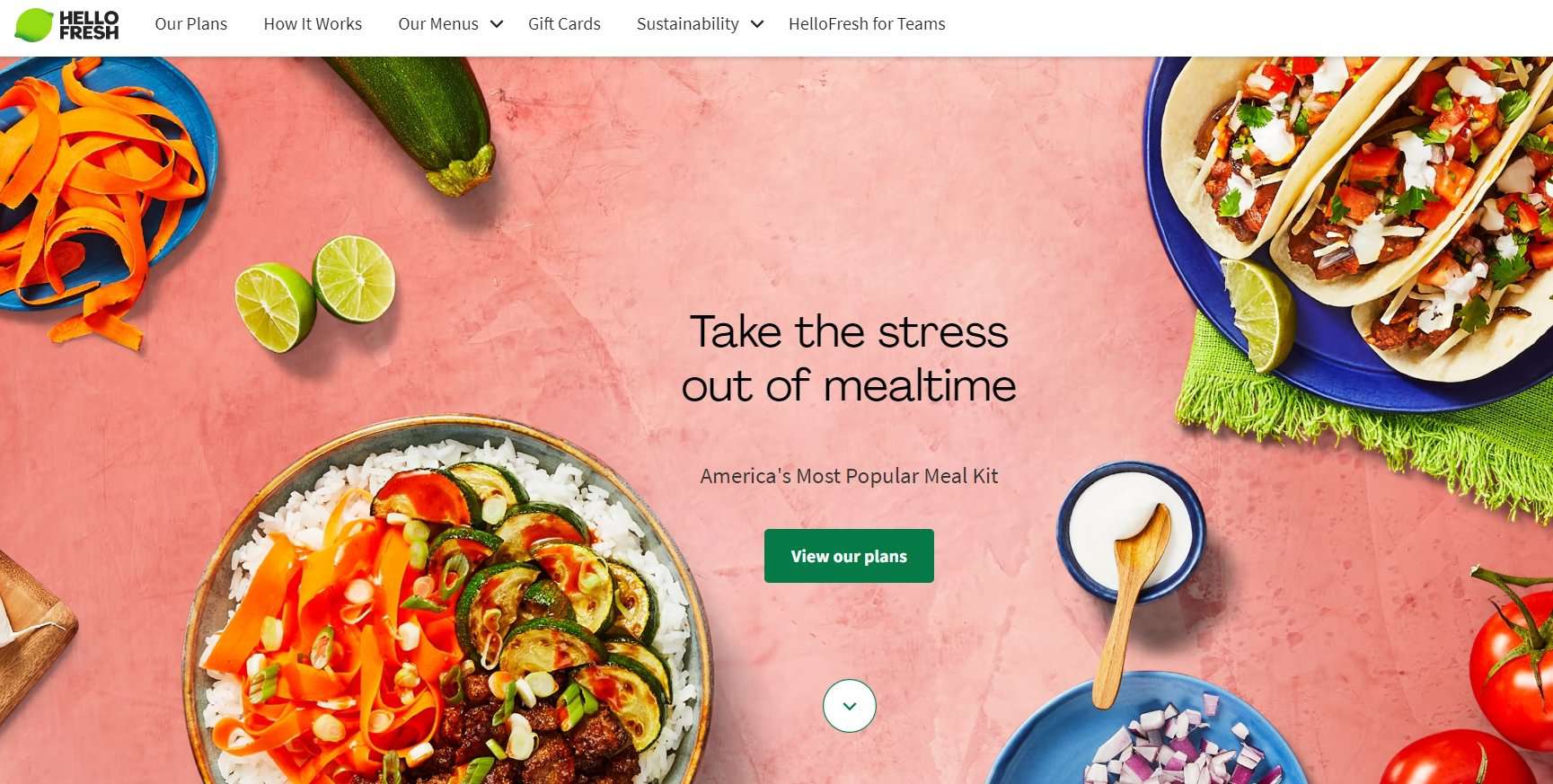 HelloFresh is the parent company of EveryPlate but is closer to Home Chef in terms of user experience. HelloFresh and EveryPlate share similar ordering and shipping structures, but their meals, prices, and quality differ slightly. EveryPlate is the more affordable and simpler of the two, whereas HelloFresh is pricier, uses better quality ingredients, and features slightly more elaborate and exciting meals with bolder flavors.
HelloFresh's meals and prices are similar to those offered by Home Chef, though HelloFresh does seem to carry more worldly cuisine with bolder flavors and more "restaurant quality" dishes. Another place where HelloFresh and Home Chef differ is in their packaging and commitment to sustainability.
Home Chef uses a lot more plastic in their packaging, while HelloFresh has published a list of ways that they've committed to sustainability by reducing their carbon footprint, participating in animal welfare programs, and listing their suppliers online.
If you're looking for a subscription service with more adventurous meals, high-quality ingredients, and a commitment to sustainability, HelloFresh is an excellent alternative to either EveryPlate or Home Chef.
FAQs
Question: Is Home Chef fresh or frozen?
Answer: Home Chef's meal kits arrive as whole ingredients, with fresh produce and protein. Their oven-ready meals and microwavable Fast and Fresh meals come fresh and should be stored in the fridge. Home Chef does not recommend freezing meals or ingredients.
Question: Is Home Chef worth it for one person?
Answer: Home Chef is great for one person as long as you're ok with leftovers. If you select a two-serving plan, you can have dinner for two nights in a row or dinner one night and lunch the following day!
Question: How long does EveryPlate meat last in the fridge?
Answer: EveryPlate recommends that you keep ingredients refrigerated and use them within five days of delivery, except seafood, which should be used within two days of delivery.
EveryPlate vs Home Chef Compared: Final Thoughts
Both EveryPlate and Home Chef will provide you with delicious, satisfying dinners while saving you time and energy. If you want to save money or keep things as simple as possible, EveryPlate is probably your best bet.
If you want to challenge yourself or are willing to sacrifice some cash for better-quality ingredients, I would suggest trying Home Chef. Either way, a meal subscription will take the decision paralysis out of your weeknight dinners, which is a beautiful thing.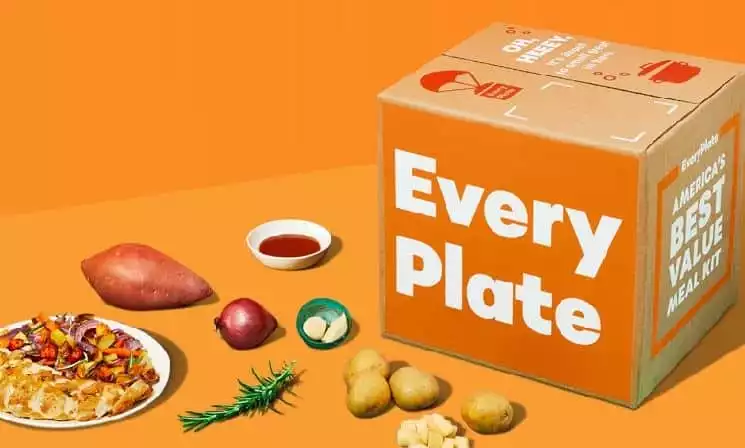 Related read