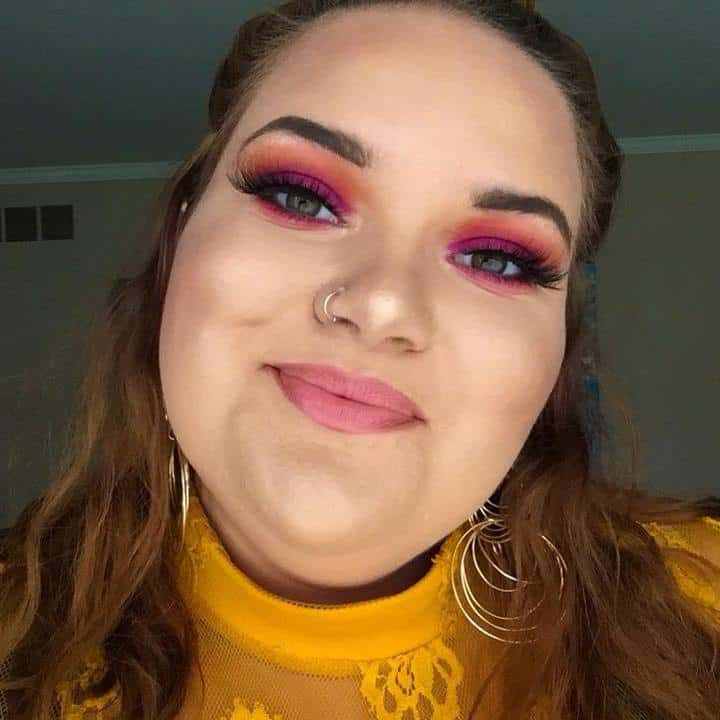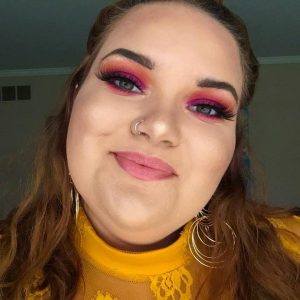 Latest posts by Alizabeth Swain
(see all)
You've probably heard of Blue Apron or, at the very least, seen at least one Facebook ad for this meal delivery company.
If you're a busy parent on the market for a meal delivery kit that'll take no time or brain power out of you, you may feel desperate as you look around at the different meal kits available. After all, you are desperate to find anything that'll help you have fewer responsibilities on your shoulder and more time with your family.
Yes, shopping for meal delivery kits can be overwhelming, especially with many different brands and services. But if you've narrowed it down to Blue Apron or EveryPlate, you're in good hands!
I have tried both EveryPlate and Blue Apron, and my experiences have been vastly different! I'm here to break down each unique aspect of the service in-depth: pricing options, quality of ingredients, variety of recipes available, convenience factors, and more to help you figure out which meal kit service will be best for your fam.
So if you're a busy mom who's running out of time or energy to make dinner but still wants delicious meals on your table with little effort, join the club!
The insider scoop: EveryPlate is where it's at! I love the affordability of EveryPlate, as well as the comfort their meals provide. They have a few meals I've ordered that are great alternatives compared to what I normally order out at restaurants.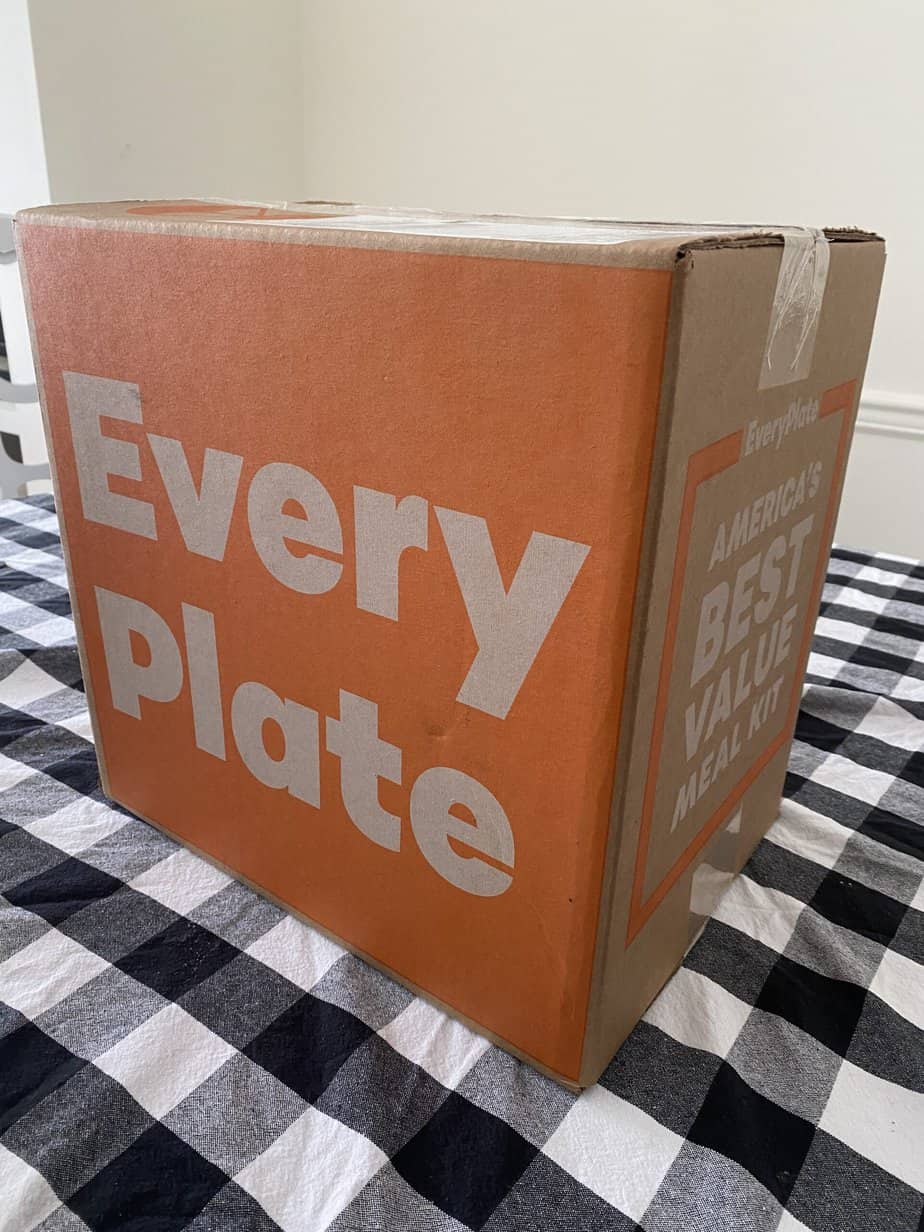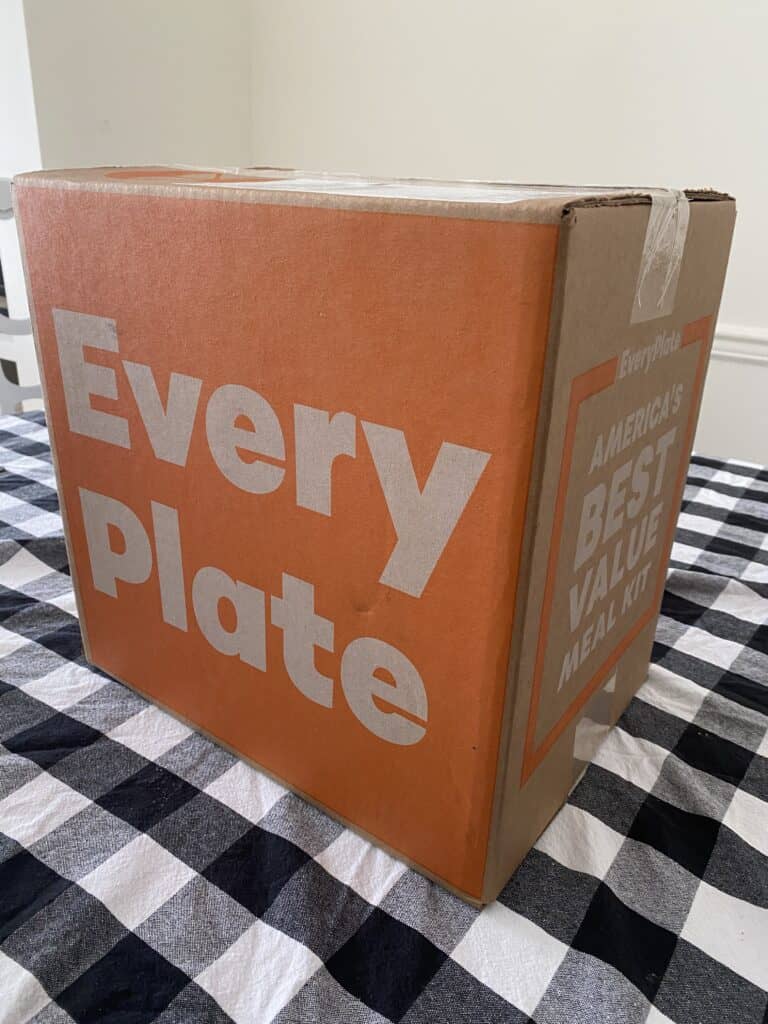 Main Differences Between Blue Apron vs EveryPlate
EveryPlate is a lot more affordable of a meal kit compared to Blue Apron. EveryPlate advertises itself as a budget-friendly meal delivery service, whereas Blue Apron is a bit pricier per serving.

Blue Apron often has more adventurous or gourmet-style meals and offers a wider range of menu options each week, whereas EveryPlate is great for picky eaters and those who love comfort food.

EveryPlate mainly focuses on straightforward and simple meals, with fewer options for specific dietary needs, whereas Blue Apron provides more flexibility in terms of dietary preferences (vegetarian, diabetes-friendly, and WW (Weight Watchers) approved meals.

Due to the affordability of EveryPlate, the quality of their ingredients is lower than the quality of the ingredients you'll find in Blue Apron.

EveryPlate focuses on simple, easy-to-make recipes that can be prepared in about 30 minutes or less, whereas Blue Apron recipes might be a bit more complex and time-consuming.

Blue Apron offers a wine pairing service that matches wines to their weekly meals, whereas EveryPlate does not offer a service like this.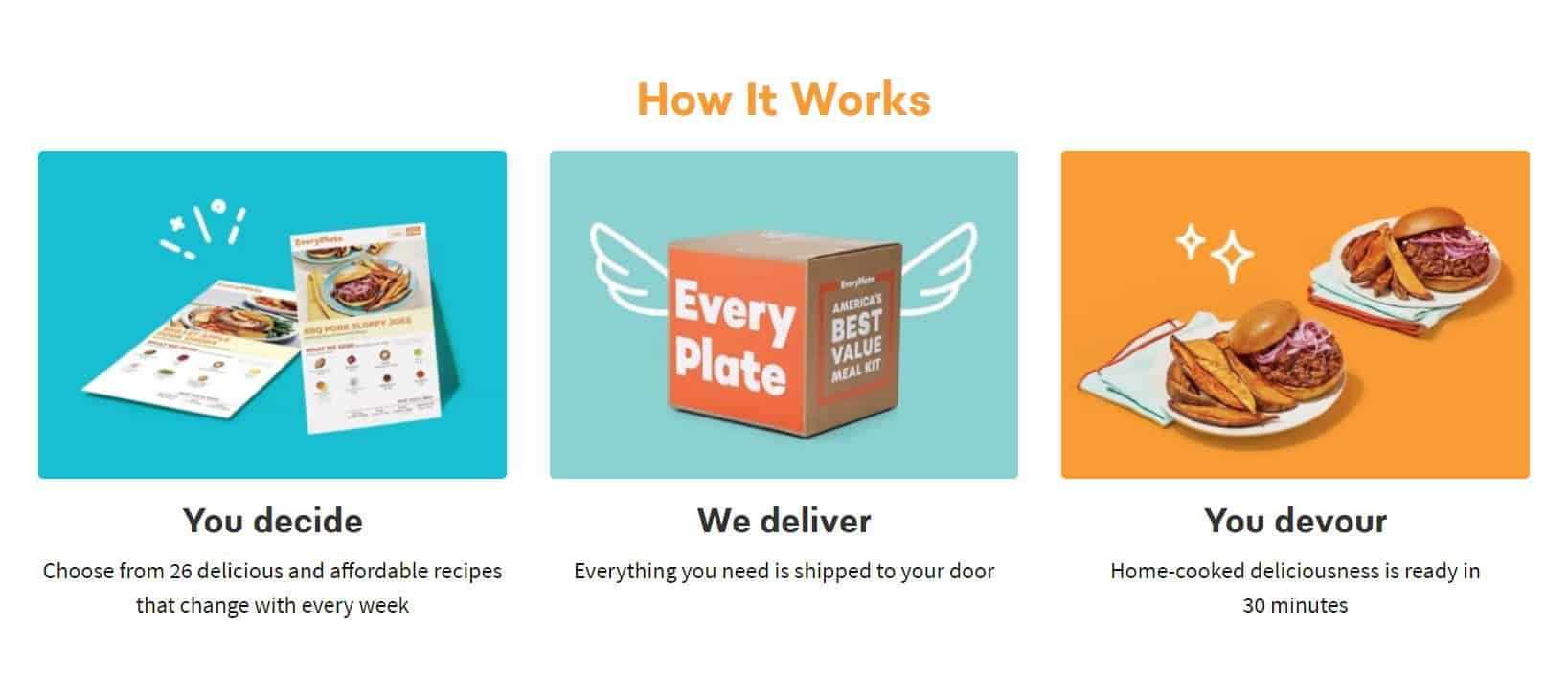 When I began diving into the scrumptious world of EveryPlate, a meal kit delivery service that's all about deliciousness on a budget, I learned just how good cheap food can be! Founded in 2018, EveryPlate's mission is to bring tasty, home-cooked meals to your doorstep without breaking the bank.
They're committed to making dinner time hassle-free and accessible to everyone, regardless of culinary skills or budget constraints.
I decided to take a leap of faith to explore flavorful meal options without feeling the pinch on my wallet. Thankfully, I'm thrilled with my experience overall!
Meals Plans and Pricing

EveryPlate offers meal plans for either two or four people. When I was signing up, I could choose from three to five recipes per week, depending on my preferences and schedule.
When I first tried EveryPlate out, I decided to keep it small and sign up for two meals. I chose the blackened shrimp salad (it's drool-worthy) and the Cajun chicken sandwich.
One of the biggest selling points for EveryPlate is the affordability it offers. Unlike many other meal delivery services on the market, EveryPlate makes affording a meal delivery kit obtainable for many families on a tight budget.
The price per serving was $4.99, making it one of the most affordable meal kit services I've ever tried before.
Shipping and Delivery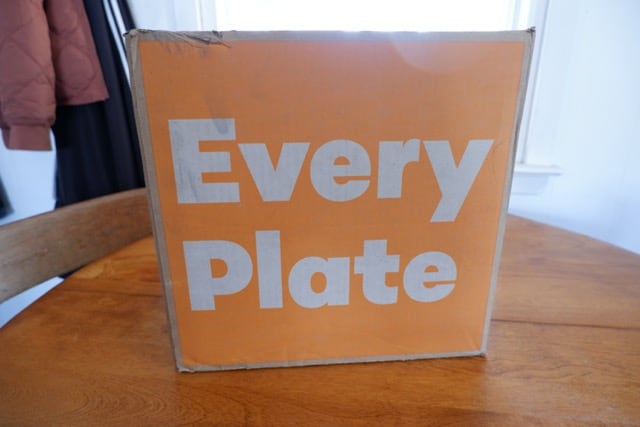 EveryPlate charges a flat shipping fee of $8.99 per box. While the shipping fee might seem like an additional cost, the overall price per meal remains competitive when compared to other meal kit services. Plus, I'm probably saving $10 in gas with a trip to/from the grocery store, so I'm not upset about paying for shipping!
As for the delivery itself, I'm usually a stickler when finding ways to reduce waste. I hate how much meal subscription boxes tend to waste plastic. The meals for your EveryPlate subscription come neatly packed in a cardboard box which is, happily, recyclable.
The box itself is insulated to keep everything cool, but I never worry about this too much because I work from home, so I'm always able to get to my delivery pretty quickly.
While it's easy for me to recycle the cardboard box, there's still a decent amount of plastic going to waste inside my EveryPlate box. Also, unlike other subscription boxes I've tried before, EveryPlate doesn't sort the ingredients you receive in your box by recipe. But, all of the ingredients inside of y box were fresh and secure, and I didn't have any problems with any of the meats in my box leaking.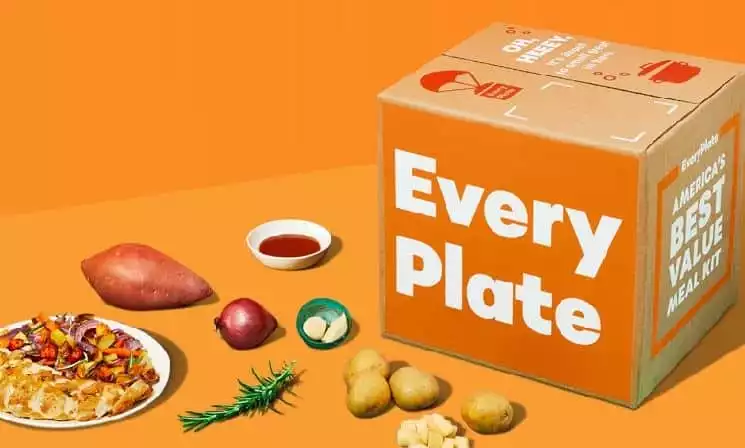 Menu Variety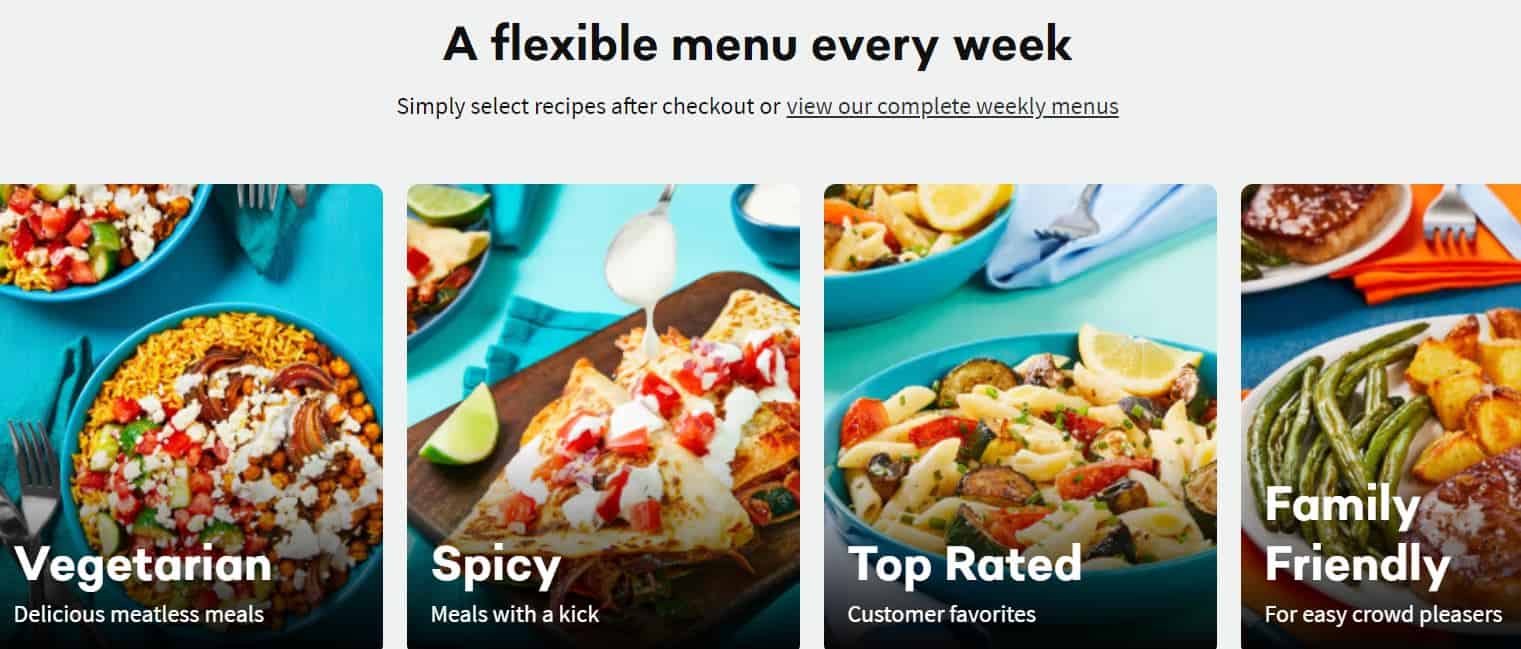 Let's talk about one of the most important parts of a meal delivery box: the menu! This is where EveryPlate really shines. It's like they've got a magic hat filled with deliciously diverse meals, and they just keep pulling out winners.
As you're signing up for your first box, you can choose between the following:
Meat and veggie

Veggie

Family faves

Quick and easy

Nutrtish and delish
I'm a Meat and Veggie kind of gal, always looking for that perfect balance on my plate. But now that my toddler is starting to get a little pickier with his meal choices, I'm heavily considering switching to the Family Faves kit.
Cooking and Preparation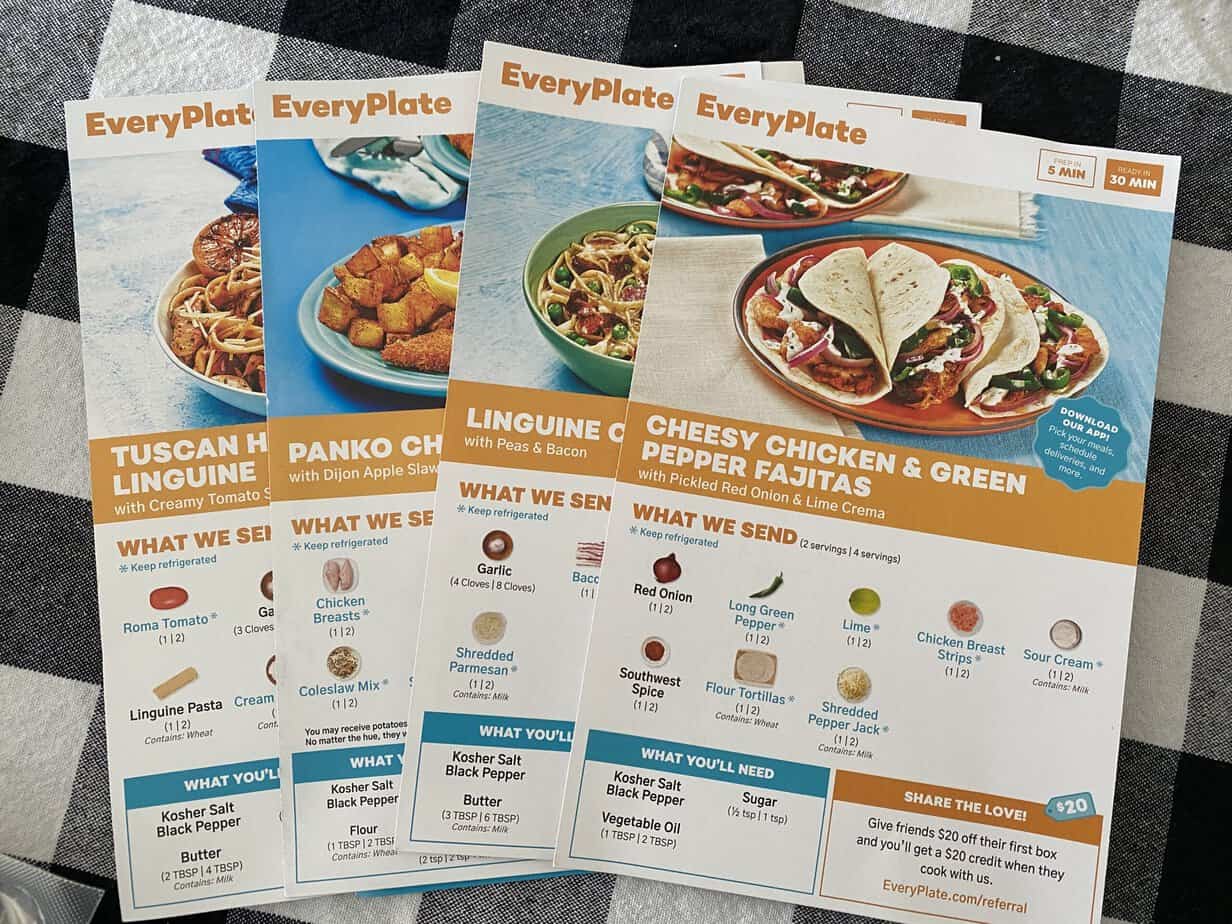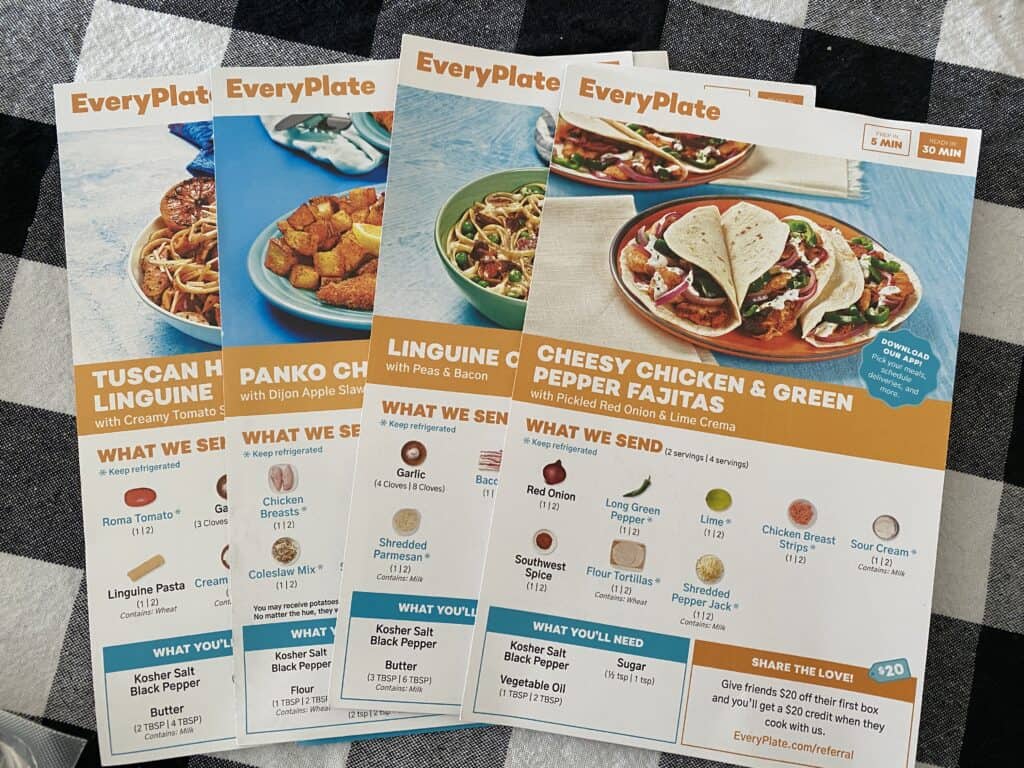 This is where the real test of skills comes in. I would say the real skill of cooking with a meal delivery service is your reading skills. And you would think, as a professional writer, my reading skills are 10/10. But, after hours, I like to turn the 'reading' part of my brain off.
So, from a competitive advantage (because I always imagine myself on one of those cooking shows with Gordon Ramsey yelling at me whenever I'm cooking), I would say the playing field is pretty even.
My kitchen is modest, my cooking skills are "developing," and my apron definitely has seen better days. However, the preparation was straightforward; no fancy culinary gymnastics was required. It's a breeze, even for cooking novices like yours, truly.
The ingredients come pre-measured, which means less time measuring and more time creating (and, of course, eating!). It felt like a fun cooking adventure rather than a chore. And the best part? Most recipes only required one or two pans, meaning less cleanup – a definite win in my book!
Meal Quality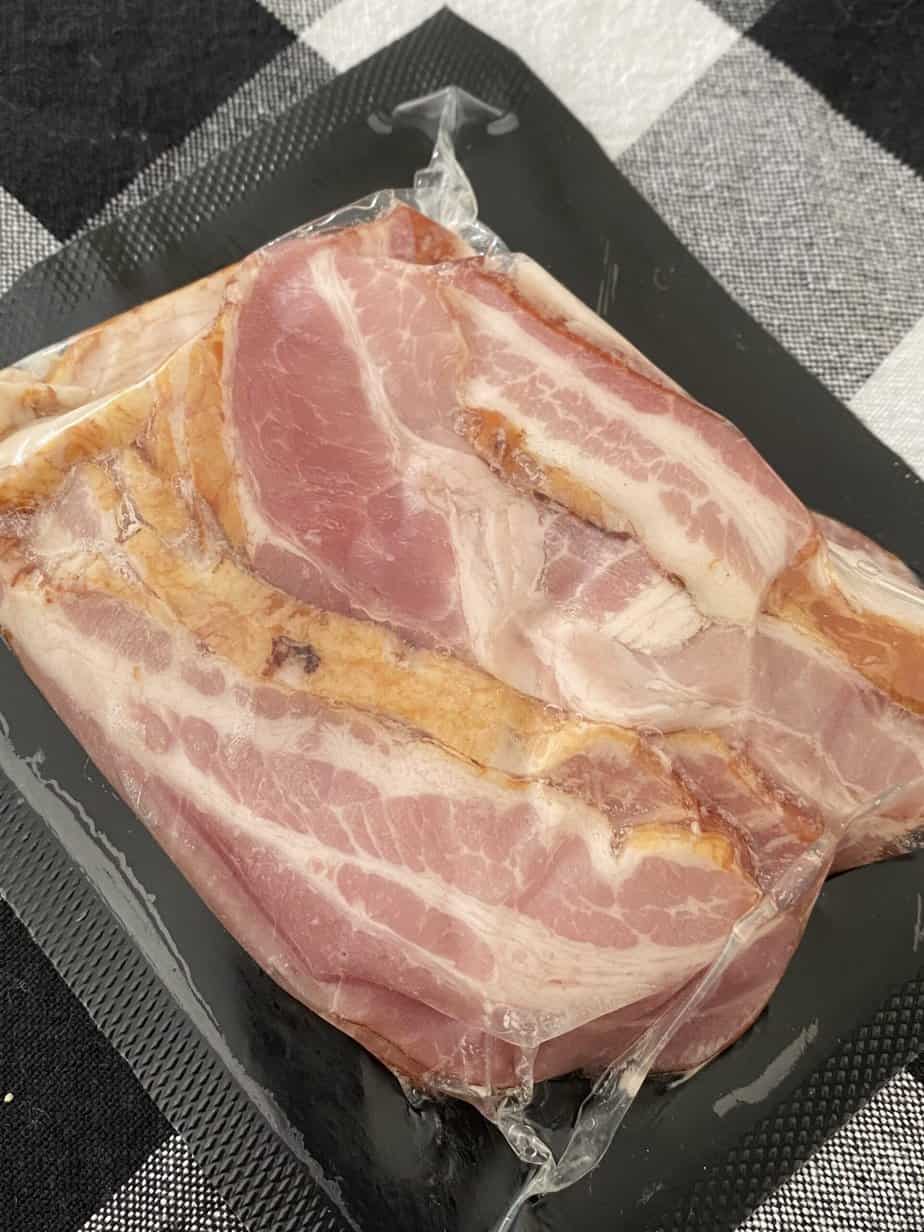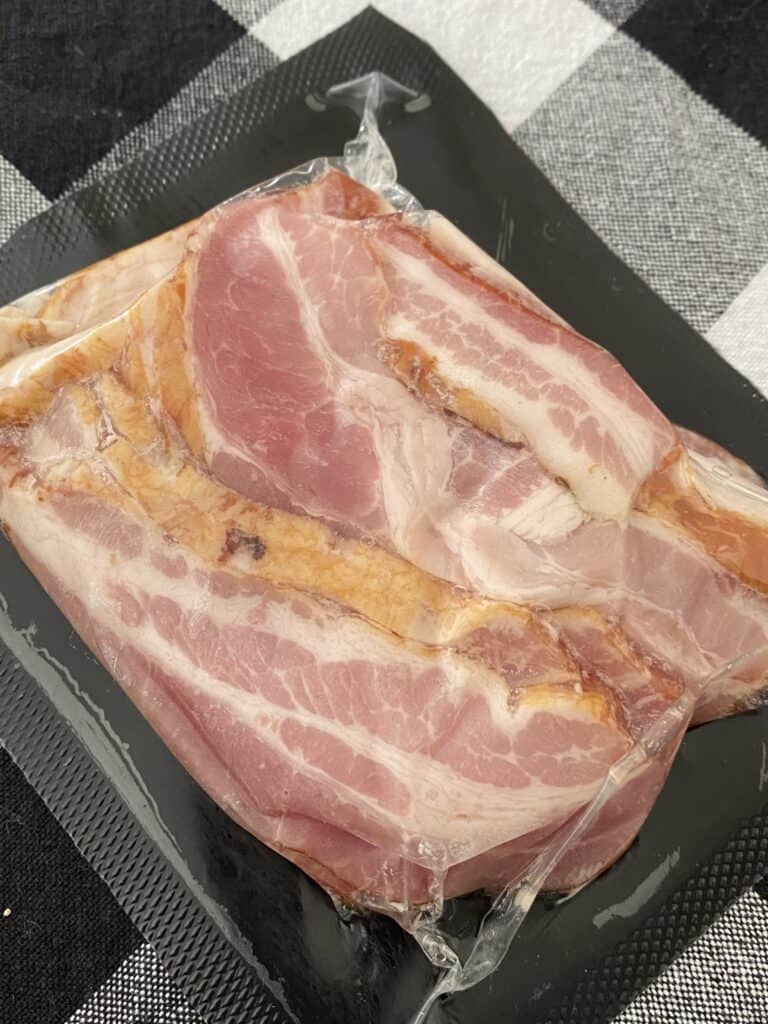 When I tried out EveryPlate, I was a bit skeptical, mainly about the food quality. But boy, was I pleasantly surprised!
From the moment I opened my first box, I could tell that EveryPlate was all about quality. The fresh veggies were vibrant and crisp, the meats were well-packaged and chilled, and the pantry items were all brand-name or of comparable quality. I felt like I'd just come back from a well-stocked farmer's market!
The recipes were out of this world! Seriously, my taste buds had a little party with every bite. The Cajun chicken sandwiches were cluckin' delightful, and the blackened shrimp salad is now my favorite salad EVER. Each meal was satisfyingly filling, leaving me with a happy belly every time.
Pros and Cons
Let's spill the beans on the pros and cons of EveryPlate.
Pros
EveryPlate is like a coupon wizard for your wallet. Their affordable prices per serving mean you can enjoy delicious home-cooked meals without breaking the bank. And who doesn't love a good deal?

EveryPlate's recipes had my taste buds dancing like nobody was watching. The flavors, the ingredients, the creativity – it was a flavor fiesta in my mouth!

As someone who's not exactly a master chef, I appreciated the simplicity of EveryPlate's recipe cards. It was like having a culinary GPS guiding me through the cooking process step by step.

No more last-minute grocery runs or agonizing over what to cook for dinner. EveryPlate delivers all the ingredients and inspiration I need right to my front door.
Cons
While EveryPlate offers a good variety of meals, they could cater more to specific dietary preferences and restrictions. If you're vegan, gluten-free, or have other dietary needs, you might find the options a bit limited.

While it was kind of a fun scavenger hunt for me, some people might prefer having ingredients pre-sorted by recipe. It's a small thing, but it could save a little time during meal prep.

While most of the packaging is recyclable, it does require a bit of effort to sort and recycle properly. It's not a deal-breaker for me, but something to be aware of.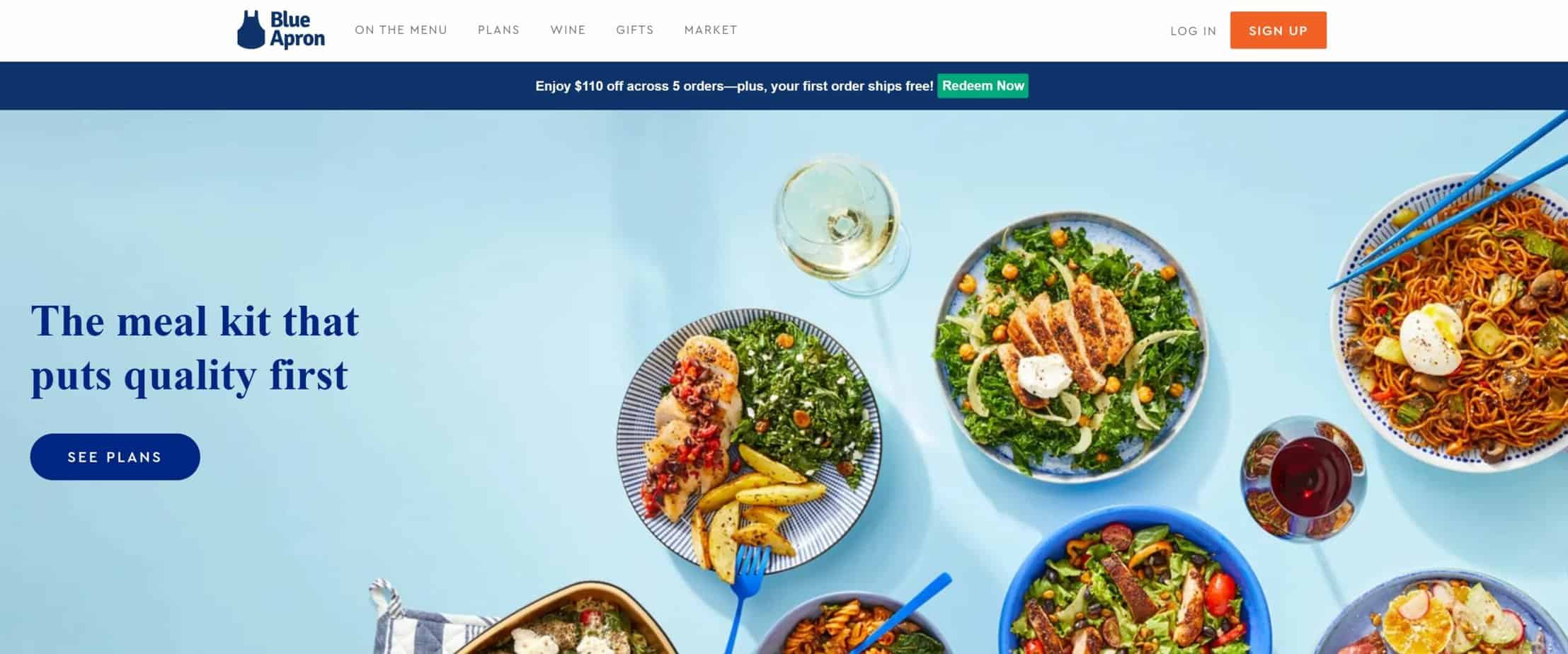 If you're not familiar, Blue Apron is a meal kit delivery service that's been around since 2012. Their mission is to spark up your routine with chef-designed recipes and to make cooking an adventure rather than a chore.
The main focus of their mission is sustainability, high-quality ingredients, and, most importantly, creating delicious meals right in your kitchen. If you're looking for a higher-end meal delivery service, grab your apron (blue or not) and your sense of culinary curiosity!
Meals Plans and Pricing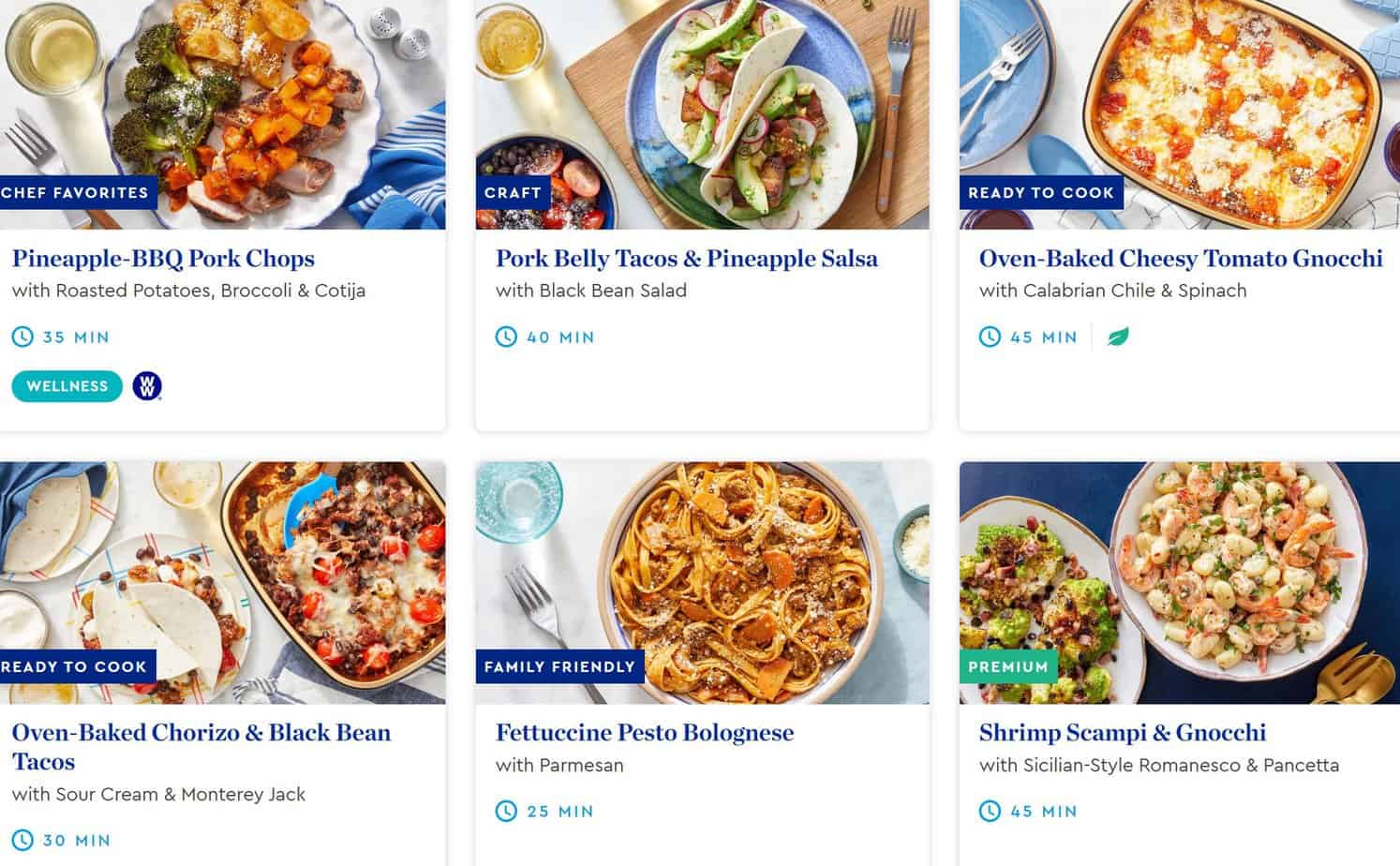 I love the variety offered by Blue Apron; they've basically got a smorgasbord of options!
Blue Apron caters to a variety of household sizes and eating habits with their two main plans – the 2-person plan and the family plan. I first signed up with Blue Apron to try cooking up new meals with my husband for date night.
The 2-person plan starts at $9.99 per serving, while the family plan starts at $8.99 per serving. Shipping is usually free if you order three recipes per week, but for fewer recipes, there's a $9.99 shipping fee.
Shipping and Delivery
I love that Blue Apron allows me the flexibility to choose the day of the week I want my meals delivered. This was a huge perk for me because, let's face it, life can be unpredictable. Knowing I could adjust my delivery day to fit my ever-changing schedule was a big relief.
The box is insulated and includes ice packs to keep all of the ingredients fresh until you're ready to open it up!
Menu Variety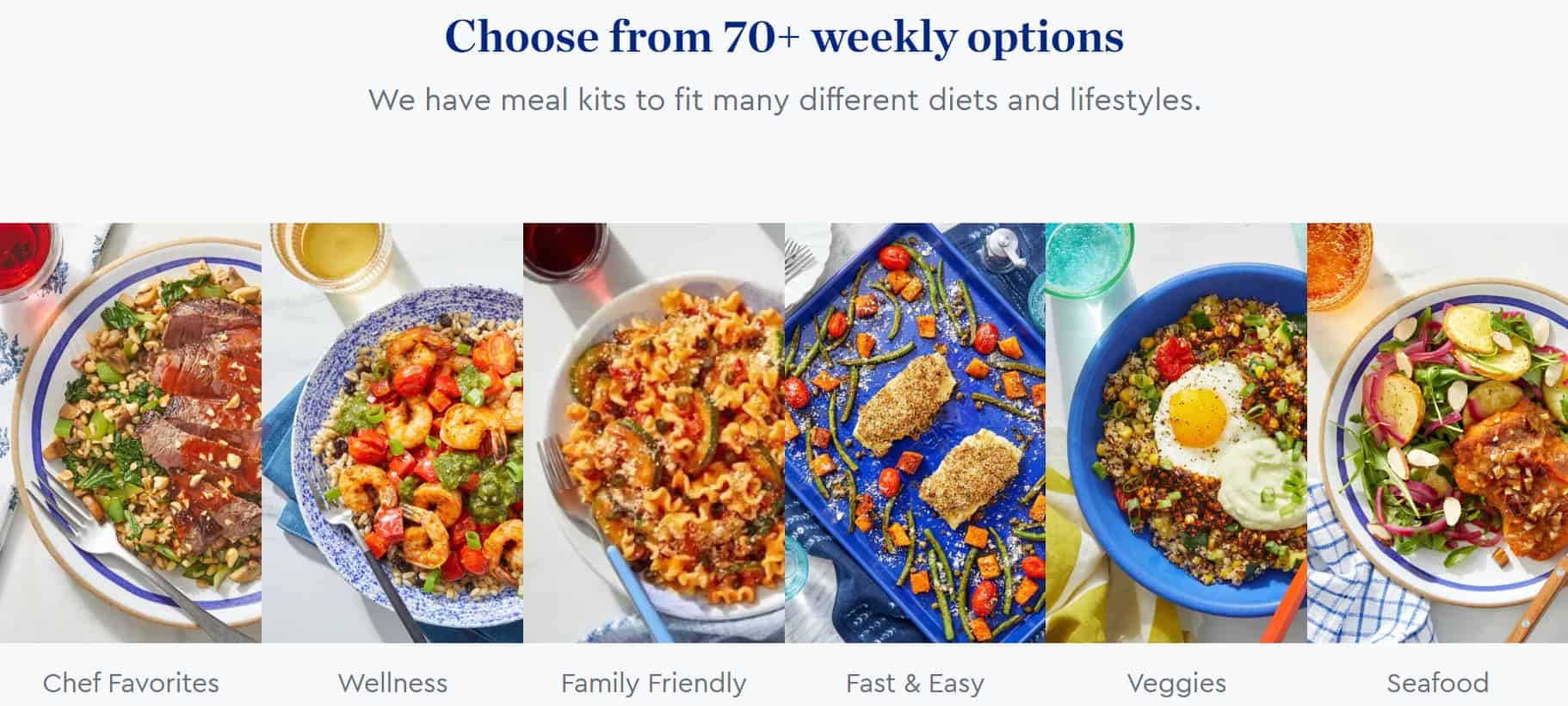 When it comes to menu variety, Blue Apron is like a playground for my taste buds.
I think my favorite part about Blue Apron is its rotating menu. They're always changing up their menu to introduce a new lineup of chef-designed recipes, ranging from home-style classics to global cuisine, that always transports me straight to a bustling international food market.
Cooking and Preparation
Another thing I love about Blue Apron is the cooking process. They make cooking fun, easy, and oh-so rewarding. I love all of the new techniques and kitchen terminology I learn while I'm cooking with Blue Apron. I'm never left guessing with the cards I receive from Blue Apron, even when it comes to plating!
Most of the recipes took around 30-40 minutes to whip up, which I did find to be a little too long. I still have to clean up dishes and put leftovers away after cooking, and with a fussing toddler, that's a little too much for me. While I do like that the ingredients come pre-measured, I usually had a hefty amount of dishes to clean up afterward.
Meal Quality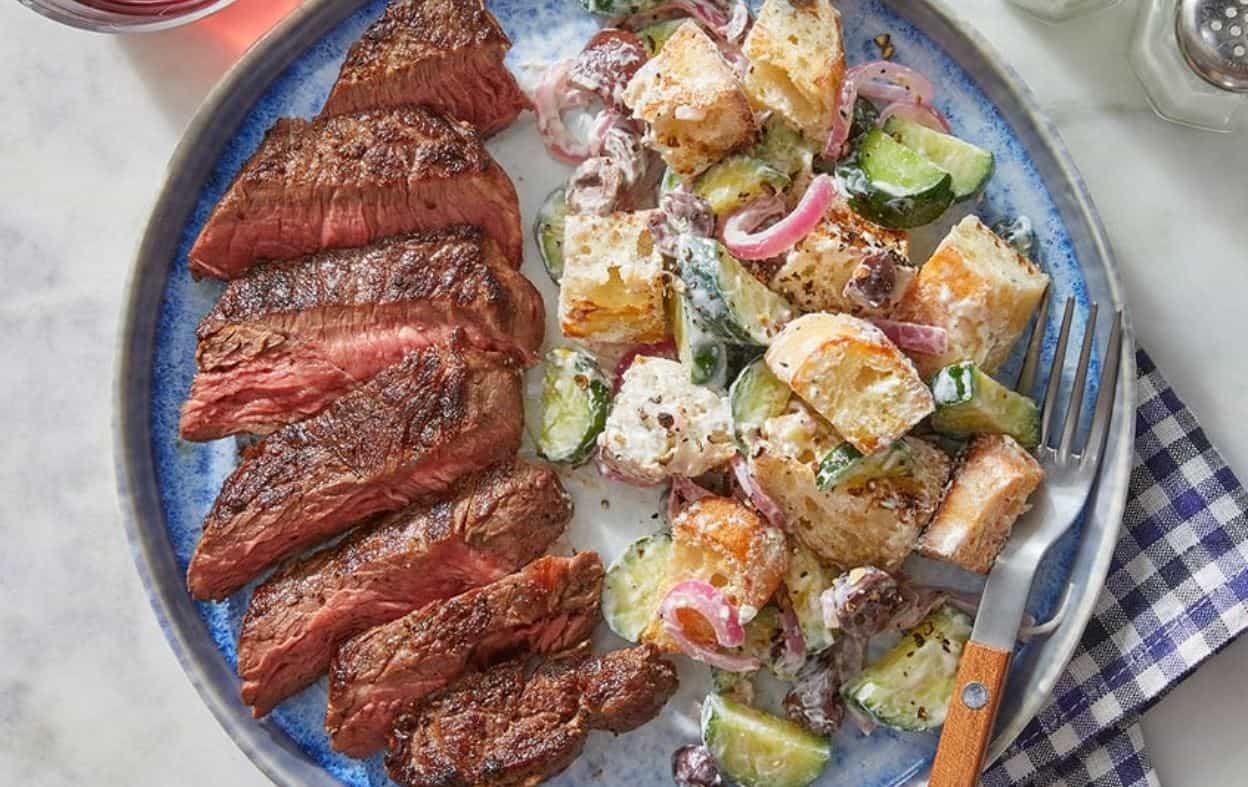 As for the meal quality, the portion sizes were on point for each meal. Each meal was satisfying without leaving me feeling overly stuffed. And the variety of recipes meant that I was always excited to see what was on the menu next. Each recipe I tried was flavorful, balanced, and downright delicious. There were meals I wished I could share with my toddler, but I felt the meals were too spicy or complex to share with him.
Pros and Cons
Here's a little bit of what I loved and what I think could use a little spicing up from Blue Apron:
Pros
Blue Apron's recipes are created by culinary experts, and it shows. Each dish was flavorful and creative and felt like restaurant-quality food cooked right in my kitchen.

One of the things I appreciate about Blue Apron is its flexible subscription. I can skip weeks, swap recipes, and adjust my delivery day to fit my schedule.

I think the wine pairing option Blue Apron offers is unique and is the feature that makes their meal delivery kit stand out for me.
Cons
Blue Apron offers great quality, but it's a bit more expensive than some other meal kit services. However, considering the quality of the ingredients and the creativity of the recipes, I found it to be worth the price.

I don't feel like Blue Apron's meals are great for families. Unless you have a family of adventurous eaters, I would recommend you reconsider.
Other Alternatives to Consider
FAQs
Question: Does EveryPlate accommodate food allergies?
Answer: Yes, EveryPlate does a great job of allergens present in each of the recipes they have listed on their website. Plus, they make sure to include the same allergen information on the cards!
Question: Does EveryPlate have vegetarian options?
Answer: Yes, they do have a few vegetarian options.
Question: Where is EveryPlate company located? 
Answer: EveryPlate is located in New York City!
Why We Love EveryPlate
EveryPlate is the budget-friendly underdog in the world of meal kits that don't compromise on flavor or quality. Time and time again, EveryPlate provides you don't need to break the bank to enjoy home-cooked meals.
All of their recipes are approachable and simple, which has been vital for our family on busy weeknights when I want to cook something tasty (and easy) for my family. And the recipes aren't overcomplicated and intimidating, which is great too.
For me, it's also impressive how they manage to pack a punch of flavor into their dishes while keeping costs low. Their fresh ingredients and step-by-step recipe cards make the cooking process a breeze, even for kitchen novices. Plus, EveryPlate's portion sizes are just right without leaving me feeling like I ate too much at the end of the meal.
While I know their meal selection isn't as inclusive for dietary needs as some other options, their rotating menu has always left me with something new and exciting to try. My family and I are dedicated to EveryPlate!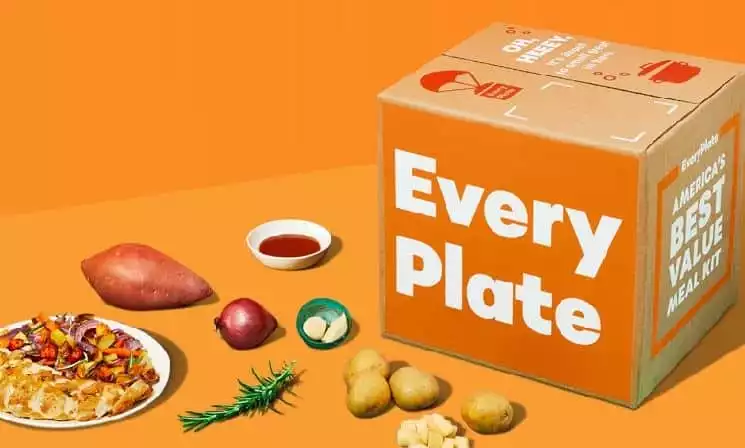 Related read